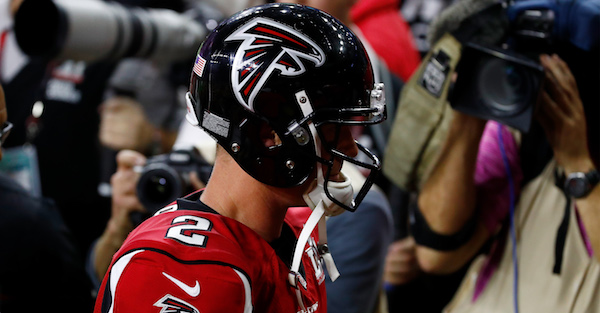 Gregory Shamus/Getty Images
HOUSTON, TX - FEBRUARY 05: Matt Ryan #2 of the Atlanta Falcons walks off the field after losing super bowl 51 to the New England Patriots at NRG Stadium on February 5, 2017 in Houston, Texas. The New England Patriots defeated the Atlanta Falcons 34-28. (Photo by Gregory Shamus/Getty Images)
The Atlanta Falcons were up 28-3 towards the end of the third quarter in Super Bowl 51 against the New England Patriots, and, although they fumbled away that lead in historic fashion, one fan ensured that he'll never forget it after getting a tattoo of that third quarter boxscore.
The fan revealed to SB Nation that he actually isn't a Patriots or Falcons fan — he's a Washington Redskins fan and that he ?cant stand these Pats fans so when i tell them to kiss my [behind] they will be reminded that they were gettin blownout.?
Fans getting tattoos before or after their team wins the big one is common, but this fan's rationale behind his new tattoo is a new one.
The Patriots would ultimately come back from that 28-3 deficit to beat the Falcons and complete the biggest comeback in Super Bowl history.