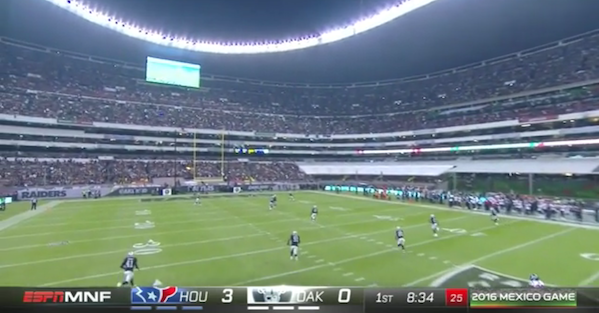 Screenshot/Streamable
Monday night's NFL game in Mexico City between the Oakland Raiders and Houston Texans wasn't without controversy.
Related: Chip Kelly?s latest comments spell doom for his NFL tenure
After the Texans kicked a field goal on their opening drive, the ESPN broadcast picked up fans chanting a homophobic slur.
The "puto" chant is a subject of controversy during soccer games in Mexico, as fans sometimes yell the word at the opposing goalie during goal kicks. FIFA fined the Mexican football federation $30,600 in October for supporters using the chant. It was the fifth time in 11 months they had been penalized by FIFA for the chant.
The NFL was aware of the issue, but it's unclear if they can or will do anything.
(h/t For The Win)