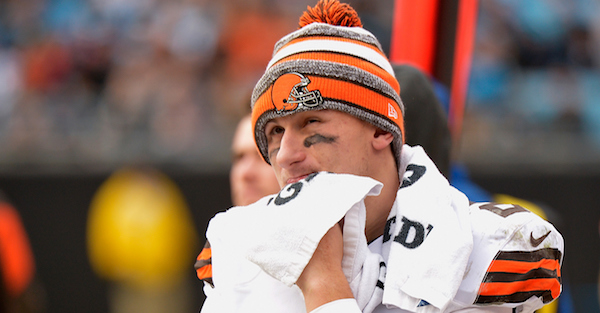 CHARLOTTE, NC - DECEMBER 21: Johnny Manziel #2 of the Cleveland Browns watches from the bench during the second half of a loss to the Carolina Panthers at Bank of America Stadium on December 21, 2014 in Charlotte, North Carolina. (Photo by Grant Halverson/Getty Images)
An investigation into what exactly happened Saturday night including Cleveland Browns quarterback Johnny Manziel is still ongoing. But according to the police report, Manziel's apparent ex-girlfriend has some serious allegations against the quarterback.
And here's the latest from WFAA in Dallas:
"The ex-girlfriend of NFL superstar quarterback Johnny Manziel told police that the Heisman Trophy winner told her "shut up or I'll kill us both" after forcing her into a car, hitting her and dragging her by the hair."
Manziel also allegedly hit her with an open hand.
Manziel spent time in a rehab facility last summer. The scrutiny against Manziel and his off-field issues should continue to get worse after this round of allegations.