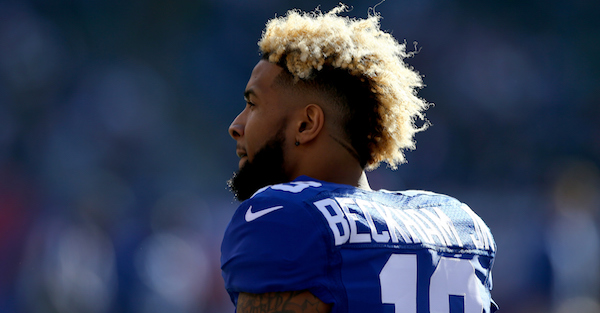 Elsa/Getty Images
EAST RUTHERFORD, NJ - JANUARY 03: Odell Beckham #13 of the New York Giants looks on prior to their game against the Philadelphia Eagles at MetLife Stadium on January 3, 2016 in East Rutherford, New Jersey. (Photo by Elsa/Getty Images)
In less than a season, Odell Beckham Jr. has gone from one of the NFL's most revered young players to one of it's most annoying.
It's a sentiment shared by New York Giants personnel, who are reportedly at odds with the third-year wide receiver's raucous sideline behavior. According to Thomas George of SB Nation, Giants coaches said if Beckham has another tantrum Sunday against Green Bay, he'll be benched and "depending on the severity, he could be suspended by the team for at least one game, maybe two."
Beckham has certainly gone the way of problem child since that ridiculous Josh Norman fiasco last season. But it's hard to imagine Giants coaches benching the team's best player for acting a fool on the sidelines. Terrell Owens did it, Randy Moss did it, and Dez Bryant still does it.
RELATED: What Odell Beckham Jr did in light of national anthem protests should earn him some new fans
If it is in fact just a ploy, like mom used to use to get a boisterous child in line, it means coaches are at their wit's end. Now it'll just be up to Beckham to realize that. But after just three catches for 23 yards in the loss to Minnesota last week, the worst game of his career, his frustration may have some grounds.
And a lot of the players, for one, have his back.
"Odell is a passionate player. I like that about him," said defensive end Oliver Vernon via SB Nation. "We're just four games in. We are 2-2. We've got 12 games left. Let's just make adjustments and go play football. I'm not worried about any controversy. We've got passion around here. That's why I came here."
We'll see if cooler heads prevail, all around.