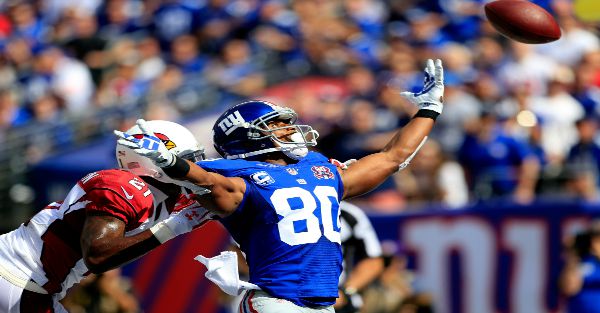 during a game at MetLife Stadium on September 14, 2014 in East Rutherford, New Jersey.
The Giants didn?t have wide receiver Victor Cruz on the field for their preseason game against the Bengals last Friday night and the starters were definitely in need of some offensive spark. However, Cruz believes his knee is 100 percent after last year?s torn patellar tendon injury.
?I?m ready to play, yes, absolutely,? Cruz said. ?I think it?s just getting back to that speed, acclimating myself to that speed again. It?s been 10 months since I?ve been out there. Game speed, game time, so that will be the only adjustment, getting used to that game speed again.?
Cruz did 11-on-11 team drills during the team?s practices with the Bengals last week, which indicates the Giants are also confident about the next steps for Cruz. The Giants host the Jets the next two Saturdays and one of those could mark the return of Cruz to the lineup.