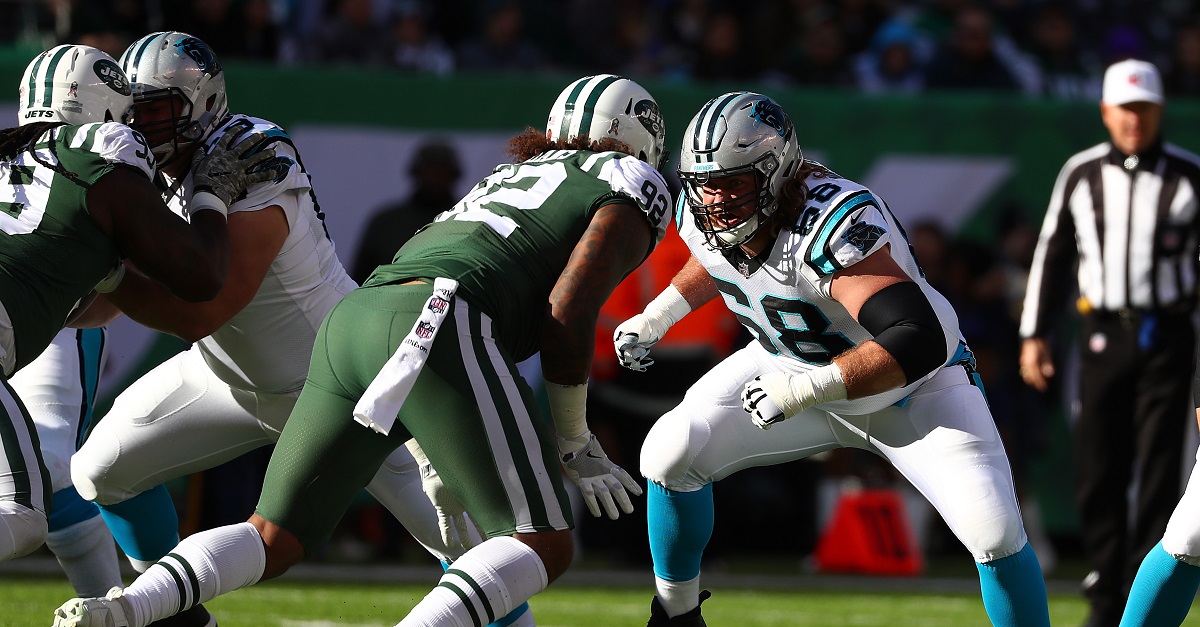 Al Bello/Getty Images
EAST RUTHERFORD, NJ - NOVEMBER 26: Andrew Norwell #68 of the Carolina Panthers in action against the New York Jets during their game at MetLife Stadium on November 26, 2017 in East Rutherford, New Jersey. (Photo by Al Bello/Getty Images)
The New York Giants have plenty of issues they have to fix this offseason and it appears they want to get started on the offensive line. NFL Draft analyst Chad Forbes apparently spoke with a Giants source and it appears the franchise may be willing to pay Andrew Norwell the most money in NFL history for a guard.
Norwell was named to the All-Pro First Team and was originally an undrafted guard in the 2014 class. He's only been in the league four years, but it appears the Giants really like what they've seen out of him playing for the Panthers. Teammates refer to Norwell as the heart of their offensive line, but the team recently re-signed offensive guard Trai Turner to a long-term lucrative draft pick, so the speculation is that they will let Norwell walk in free agency.
Norwell played at Ohio State in college and he was named the third-best guard in the league by Pro Football Focus. He was also the only offensive guard in the entire to not get called for a penalty — among those who played 500 or more snaps — and he was in on 903 snaps including the postseason.
[h/t 247Sports]