Running backs don't matter.
This is a sentence that might be hard to hear, but it's true in today's football. Players like Saquon Barkley, Ezekiel Elliot, Josh Jacobs, and Jonathan Taylor have been at the top of leaderboards within their positions but in the end, they only make a small impact within an offense.
This off-season all the players on this list were either let go or didn't get the extension they feel they deserved. Running backs in 2023 have multiple roles. They must be strong enough to run through the middle, quick enough to get to the edge, outrun defensive backs, block defensive ends, and catch the ball in the open field. Unless you are Derrick Henry with a very specific elite skillset, backs who can't perform all these duties at an elite level are just put on the back-burner. Teams eventually adjust in other ways.
The Colts gave Taylor until Tuesday, Aug. 29 to find a suitable buyer. They are asking for an unreasonable first-round pick or a package that equals the value of a first. They know there isn't a team in the NFL that will take that offer because it's just too high. The best bet for the Colts is that Taylor stays with the team. They have a rookie quarterback taking snaps who is an athletic freak, and the best NFL play style fit is an RPO centric offense, which is a perfect pair with new head coach Shane Steichen, and it also suits Taylor.
This is a snapshot of what a zone-read offense is: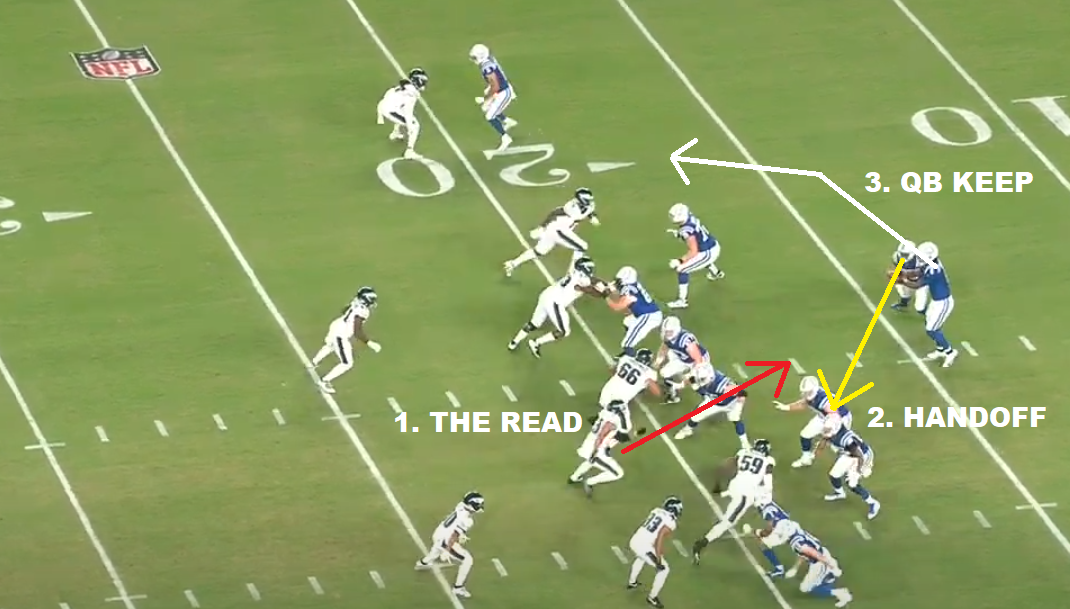 If the quarterback wants to keep the ball, he reads the defensive end and if he doesn't like that look, he will either hand it off or throw it. The job of an inside/outside zone read running back is to read their blockers and use their vision to decide which hole would be the best to go through. This is opposed to a gap style player who follows his blockers up the field in a designed blocking scheme. Most backs in today's game are zone style players, but Taylor is one of the best.
The Colts Offense Runs Through Taylor
According to Sports Info Solutions, on 114 inside zone attempts Taylor led the league with 511 yards, he ranked third in touchdowns (7), second in yards after contact (296), first in first downs (45), had the fourth-highest EPA (6.56) and ranked first in yards per game (33.1). In 92 outside zone attempts, Taylor led the league in yards (673), touchdowns (4), and yards after the catch (404). He was third in first downs with 25.
These rankings are compared to the NFL over the last two years.
Last year, the Colts had the second-most outside zone run yards (796) in the NFL only behind the Rams, with 827 using a fully healthy Taylor in 2021. They tied for first in yards after contact with 443. Taylor is known for breaking tackles and falling forward. He does this without any lead blockers. Against 8+ defenders in the box, Taylor was fifth in first-down percentage 41.1% and first in the league in yards after contact with 790.
The clip above is against the Jacksonville Jaguars where the defense brought a blitz and the RPO run ended up being perfect for Taylor. He gained 21 yards on this play.
Richardson needs Taylor more than the Colts might realize. Michael Pittman Jr., Isaiah McKenzie and Alec Pierce are not dependable enough to put the game in their hands. Pittman is their No. 1 receiver, but he was 31st in the league in receiving yards per game with 57.8 last season.
Richardson doesn't have a reliable target down field who can consistently win by getting separation on every rep. Taylor is hands down their best offensive weapon. Last year, the Colts won in week 10 against the Las Vegas Raiders and Taylor played 94% of the total offensive snaps and rushed for 147 yards on 22 carries and had one touchdown.
pic.twitter.com/6nlhIDg6fZ#Colts Jonathan Taylor with a 66 yard run. Taylor has 137 yards as #Indy leads in the #Raiders in the 3rd Q. #ForTheShoe

— NFL Rumors (@nflrums) November 13, 2022
When Colts head coach Steichen was the offensive coordinator for the Philadelphia Eagles last year, they were third in the league in RPO rushing yards and led the league in touchdowns with 10. He had an explosive offense with RPO being a primary focus because of quarterback Jalen Hurts' skillset. The main difference between these two teams is the offensive line and the Eagles have two receivers who are at the top of the league, DeVonta Smith and AJ Brown. We can't say the same about the Colts.
Owner Jim Irsay did his team a disservice when he tweeted, "If I die tonight and Jonathan Taylor is out of the league, no one's gonna miss us. The league goes on. We know that. The National Football [League] rolls on. It doesn't matter who comes and who goes, and it's a privilege to be a part of it."
That is a wild thing to say about one of the greatest running backs in Colts' franchise history.
Richardson will benefit immensely from Taylor. When defenses shut down their receivers, the quarterback can hand it off to Taylor who can guarantee three or four yards every touch. Last year, Taylor averaged 4.48 yards per carry, per Pro Football Reference.
So, the Colts better hope Taylor doesn't hold out. The situation is similar to what happened with Le'Veon Bell, who held out when he was unhappy back in 2018. The Pittsburgh Steelers started James Conner and he ended the 2018 season 33 yards shy of a 1,000-yard season, but their offense was 31st in the league in rushing and 24th in rushing first downs, per SIS.
Whatever happens, the running back position is now expendable. They will get replaced with lesser talent and the team will in fact go on. Less and less players will choose the running back position and the overall production will suffer. The money just isn't there in a league where moving the ball through the air is the quickest way to a touchdown.
Either the NFL saves the position and re-works rookie contracts for these guys or running backs just have to deal with getting less money. Maybe the position eventually just gets replaced with tight-ends who can run the ball. Once that happens defenses will adjust and then in time the H-back will be relevant again. In due time running backs will eventually get their respect, but it just won't be in this decade.
Want More Sports News?
Get the biggest and best sports news sent directly to your inbox.