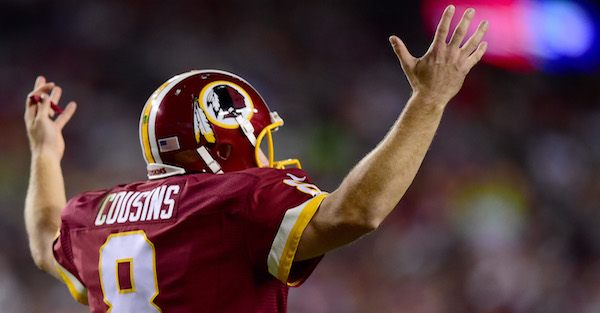 Patrick Smith/Getty Images
LANDOVER, MD - OCTOBER 06: Quarterback Kirk Cousins #8 of the Washington Redskins signals to the sidelines during the 3rd quarter of a game against the Seattle Seahawks at FedExField on October 6, 2014 in Landover, Maryland. (Photo by Patrick Smith/Getty Images)
After an 0-2 start, the Washington locker room is pretty upset with Kirk Cousins according to Pro Football Talk.
RELATED: Ezekiel Elliott makes Cowboys history against Washington
Players on offense have been voicing their concerns with Cousins' indecisiveness and erratic passing, per the report. Coach Jay Gruden all but jumped in front of the bus that's sure to run Cousins over if they continue to lose, saying they'll "coach him up."
"We've got the New York Giants as soon as we leave here, so he can watch the tape, find out what's going on if he's not sure what the indecision might be, why he's missing some throws, but you know, it's a tough game," he said after their 27-23 loss to Dallas.
Cousins was one of the best quarterbacks in the NFL last season after taking over for the embattled Robert Griffin III. He completed 69.8 percent of his passes for 4,166 yards, 29 touchdowns, 11 interceptions and a QBR of 70. This season he's been nowhere near as effective, throwing just one touchdown and three interceptions in their two losses.
It also doesn't help that one of those losses came at home against a division rival after winning the NFC East a season ago.
If the rumblings out of Washington are true, it stands to reason that, no, they don't "like that," Kirk.
[h/t Pro Football Talk]