Photo by Leon Halip/Getty Images
The big boys up front aren't heard from much.
Life inside the trenches blocks out the noise, unless there's a missed block. Then it's all noise. From the coaches, from the crowd, from the commentators.
You don't even know a good offensive lineman exists. That big hole that a semi could run through magically appeared out of nowhere. The clean pocket the quarterback had to deliver a dime downfield was actually an invisible wall.
Offensive lineman Luke Joeckel liked it that way, which is why you haven't heard from him since he retired.
Luke Joeckel's Football Career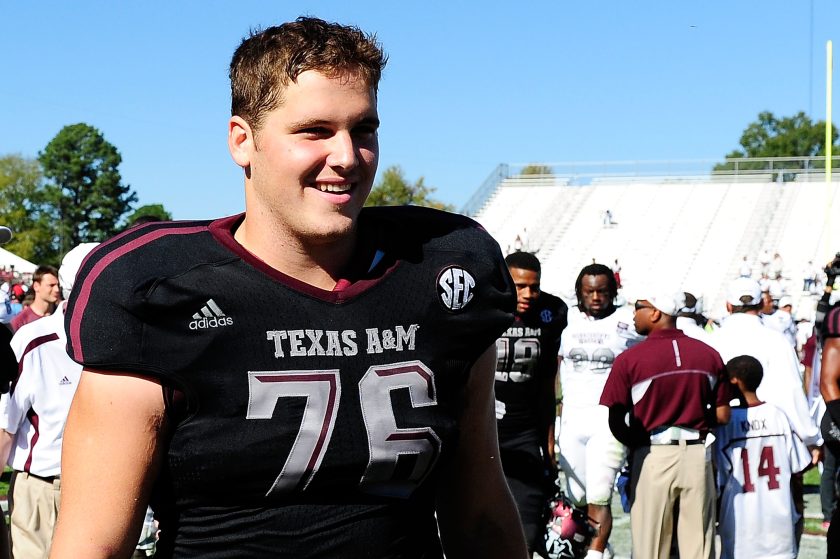 RELATED: Sam Adams Dominated at Texas A&M, But Where is He Now?
Joeckel grew up in Arlington, Texas. At Arlington High School, Luke protected his twin brother Matt, who played quarterback.
The Joeckels were a Texas Tech family. His father played on the offensive line there, and his grandpa was a tight end. David, the oldest Joeckel brother, played on the offensive line at DePauw.
Despite the Red Raider fandom, Joeckel chose to play college football at Texas A&M.
The left tackle was a stud in College Station. He was an Unanimous All-American and First-team All-SEC selection along with winning the Outland Trophy. Not only did he bring in accolades, he protected quarterback Johnny Manziel during his Heisman Trophy run.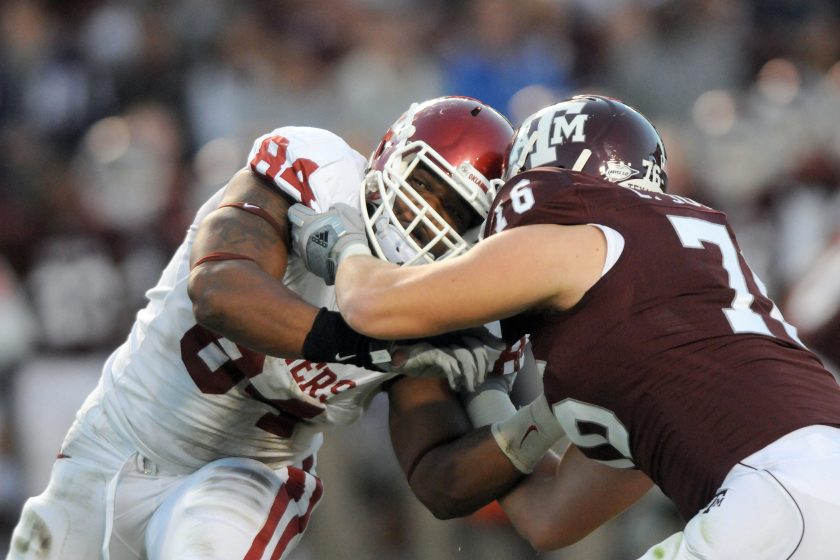 Heralded as one of the top prospects in the 2013 NFL Draft, Joeckel was the second-overall pick by the Jacksonville Jaguars.
The natural offensive tackle floated around the line in the NFL. Jacksonville head coach Gus Bradley moved him to right tackle, then he switched back to left tackle, then remained on the left side as a left guard.
Joeckel's college dominance didn't transition to the pros. The position change combined with an ankle injury cut his rookie season short. He played 30 out of 32 games the next two seasons. A knee injury caught up with him in his fourth-year, and he only played four games. He was placed on injured reserve following a knee surgery.
The Jags declined to pick up Joeckel's fifth-year option. His signed with the Seattle Seahawks as a free agent in the 2017 offseason before his last season.
For his career, the first-round draft pick played in just 50 games before he was done playing.
Luke Joeckel Now
Left tackle Luke Joeckel went back to school after hanging up the cleats. He graduated in August 2019 with a business degree. He also looks great these days, having lost a ton of weight and slimming down.
He hosted an offensive lineman camp in the Dallas-Fort Worth area that same year.
According to his LinkedIn, the former blindside protector is an associate for PegasusAblon — a Dallas-based commercial real estate development, investment and management company.
The former Aggie gave an update on his life in an interview with Advocate magazine in September 2019. He talked about the biggest misconception about playing in the NFL:
"The NFL life does not live up to the Hollywood world. I never bought into that whole lifestyle, [said Joeckel]. I was an offensive lineman. I liked being in the background. I liked playing the game and playing football and living a normal life."
In the background. In the trenches. Out of sight.
Exactly how Luke Joeckel likes it.
Related Videos