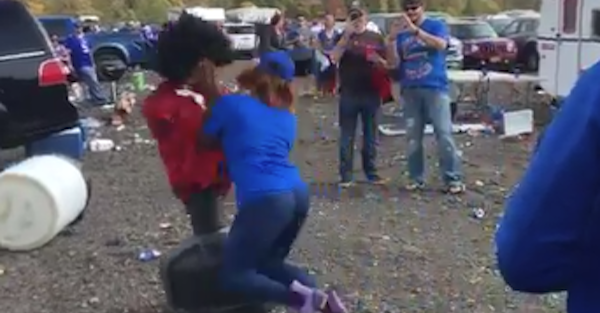 @RobertKlemko/Twitter
On Sunday in Buffalo, national NFL writer Robert Klemko was in full force reporting Bills fans' responses to Colin Kaepernick and his national anthem protests. A fan is now lashing out at Klemko after alleging he misreported a video with her in it.
Related: Bills fans created extremely controversial anti-Kaepernick shirts ahead of his first start
Aside from sharing a disturbing picture of t-shirts being sold with crosshairs on Kaepernick's head, he also reported that fans shouted, "tackle the Muslim," before a young lady takes down a mannequin wearing an afro and a San Francisco 49ers jersey.
The person in the video has refuted his claims with reported video of the moments before Klemko started recording.
Owner of the MMQB, Peter King, backed Klemko on WEEI, but admitted his reporter should no have tweeted what he sent out:
?Robert Klemko should probably have never posted that tweet,? King said.

?I?ve worked with him for four years. I have worked with him on some very sensitive stories. What he is guilty here is of bad judgement. Bad judgement in putting out his tweet and implying that the woman in his tweet ?obliques.? I still have no question whatsoever that the words were said ? ?Tackle the Muslim.? There is no reason whatsoever he would make this up, that he would fabricate something in this case."
King later doubled down:
"Robert Klemko didn?t invent this story, period. I will believe that until the day I die.?
Klemko has yet to back down on his claims.