Draft week is here. That's right — the 2023 NFL Draft is just days away from the first round kicking off on April 27 at Union Station in Kansas City, Missouri.
This year, there are 31 picks in the first round (the Miami Dolphins' pick was forfeited due to tampering involving Sean Payton and Tom Brady). Of those 31 picks, we'll see many positions getting drafted. From the top quarterback to centers and other interior offensive linemen, many players will hear their name called and head to the new NFL home as a first-round pick.
However, one position always draws more criticism than the other: running back.
In today's NFL, there are those top-tier backs, sure; but if you look at production, a lot of it can come from unsuspecting Day 3 draft picks. A big part of running back production stems from the offensive line, but every now and then there might be that prospect who can single-handedly develop a running game.
Since 2013, 12 running backs have been taken in the first round. Here's how many were taken each year:
2013:

None

2014:

None

2015:

Two

2016:

One

2017:

Two

2018:

Three

2019:

One

2020:

One

2021:

Two

2022:

None
Looking at the betting odds for the 2023 NFL Draft, the over/under on running backs taken in the first round is 1.5. Texas' Bijan Robinson is the consensus top running back in this year's class. He's often been linked to the Atlanta Falcons at No. 8 overall. The next possible running back who could go in the first round is the somewhat-undersized but speedy and pass-catching Jahmyr Gibbs out of Alabama. He could be an option for the Dallas Cowboys at No. 26 overall.
Looking back to the turn of the century in 2000, running backs were in much higher demand. Using the same 10-year span of 2000-2010 (compared to 2013 to now), you reach 11 first-round backs by the No. 23 overall pick in the 2003 draft, with the Buffalo Bills selecting Willis McGahee. Over that entire span, there were more than 30, with five going in 2000 and 2008.
The NFL was much more focused on the run before a passing resurgence came in the early 2010s. Before 2010, the average passing yards per game didn't exceed 218.5. From 2010 on, the average didn't dip below 221.5 (2010), with a high of 241.5 (2016) before a 218.5 average in 2022.
Could this dip in passing yards per game average indicate more emphasis on the run game?
The top 10 rushing attacks in the league last year combined for a 95-73-1 record. Now, we can dig into the specifics of each team about offensive line play, quarterback play and quarterback rushing ability. Still, it seems as if we're getting a bit of a swing back toward developing a run game to help push a passing attack.
This is all to say that we should do a bit of a running back retrospective.
Below, we'll look at each running back drafted in the first round since 2013 and how their career went. No, this isn't an exact science to assume how productive Robinson or Gibbs will be, but it's worth taking a look back to see how others performed.
Todd Gurley: St. Louis Rams (No. 10 Overall, 2015)
Coming out of Georgia, Todd Gurley was an absolute stud — so much so that he went No. 10 overall to the then-St. Louis Rams. Gurley was expected to be the go-to running back and was a fantasy football darling heading into the year. That season, Gurley had 229 carries for 1,106 yards and 10 touchdowns, an average of 4.8 yards per carry. He added 21 receptions for 188 yards.
While 2016 was the Rams' first season in Los Angeles, it was the final season for head coach Jeff Fisher. Gurley referred to the Rams' playbook that year as a "middle school offense." He finished the year with 885 rushing yards and six touchdowns.
Gurley bounced back the next season, finishing No. 2 in MVP voting behind New England Patriots quarterback Tom Brady. Between this season and the next one, this brought him a four-year, $60 million deal.
Injuries plagued his final couple seasons, and Gurley last played in the NFL in 2020 and is now finished playing at 28.
Worth It?: Overall, yes. Gurley had three stellar seasons, including back-to-back years in 2017 and 2018. His production helped elevate the Rams to Super Bowl contention. If the Rams didn't sign him to a monster contract and let him play out his fifth-year option and walk, this would've been a much better financial decision.
Melvin Gordon: San Diego Chargers (No. 15 Overall, 2015)
Currently a free agent as of April 2023, Melvin Gordon appears to be done in the NFL.
At Wisconsin, Gordon put up 2,587 rushing yards as a junior, second only to the FBS record of 2,628 set by Barry Sanders in 1988. However, he never found Sanders-type success in the NFL. Gordon managed a career 4.1 yards-per-carry average. He only went over 1,000 rushing yards once in 2017, averaging just 3.9 yards per carry. He also had two seasons with double-digit touchdowns (2016 and 2018).
Worth It?: No. Gordon's production was relatively lackluster compared to the back who went five picks before him. He never really elevated the Chargers' offense. The Chargers made the right decision by not signing him to a long-term deal.
Ezekiel Elliott: Dallas Cowboys (No. 4 Overall, 2016)
As of April 2023, Elliott is a free agent after being cut by the Dallas Cowboys. Like Gurley, he received a monster contract from the team that drafted him, signing a six-year, $90 million contract in 2019. Before the deal, Elliott was a force on the field. He led the league in rushing yards per game in each of his first three seasons in Dallas, totaling more than 4,000 rushing yards and nearly 1,200 receiving yards.
From 2020-2022, he was wildly inefficient compared with the emerging Tony Pollard. Yet he still scored 32 total touchdowns over that time. During his stint, the Cowboys won just two playoff games.
Worth It?: Over the course of his rookie contract, Elliott was electric. However, the deal dismantled the Cowboys' salary cap situation, resulting in them needing to let go of several players, including wide receiver Amari Cooper. This is another cautionary tale about signing running backs to long-term deals.
Leonard Fournette: Tampa Bay Buccaneers (No. 4 Overall, 2017)
After going No. 4 overall, Leonard Fournette was, overall, underwhelming for the Jaguars. He played just three seasons with the team. He went over 1,100 rushing yards in two of those years but could have been more efficient, averaging 3.8 yards per carry or less in 2017 and 2018. In 2019, Fournette had his best season, going for 1,152 yards on 265 carries, but had just three touchdowns.
The team tried to trade him, failed, then released him. He signed a one-year deal in September 2020 with the Tampa Bay Buccaneers. He helped lead the team to a Super Bowl championship, adding 16 carries for 89 yards and a score in the big game. However, after leaving the Jaguars, he hasn't eclipsed 200 carries or 812 rushing yards.
Now, in April 2023, he's a free agent.
Worth It?: No. Fournette wasn't worth the No. 4 overall pick.
Christian McCaffrey: Carolina Panthers (No. 8 Overall, 2017)
After getting drafted by the Panthers in the first round, McCaffrey signed a four-year, $64 million-plus deal in 2020. The deal included over $30 million in guarantees. In the season before this, McCaffrey had monstrous numbers, including 1,387 rushing yards, 15 rushing touchdowns, 116 receptions for 1,005 yards and four passing touchdowns.
Since signing the deal, though, McCaffrey would play just 16 games with the team — three in 2020, seven in 2021 and six in 2022.
In 2022, the Panthers were in disarray. The trade rumors for McCaffrey revved until he was ultimately traded to the San Fransisco 49ers on Oct. 20, one of the best rushing teams in the league. In his second game with the team, McCaffrey had a passing, receiving and rushing touchdown. The 49ers lost in the NFC championship after every quarterback got injured.
Worth It?: Yes. McCaffrey has been a rare exception. He's had 244 carrier or more twice in his career and appears to have bounced back despite the two injury-filled seasons. He has acceptable cap numbers of $12 million for a player prolific in the passing attack and on a team considered one of the best rushing teams in the league. The context of the team and cap number make this a favorable deal.
Saquon Barkley: New York Giants (No. 2 Overall, 2018)
As of April 2023, the Giants are faced with a decision: to pay or not to pay Saquon Barkley.
Heading into the 2023 season, Barkley received the non-exclusive franchise tag from the Giants, which is around $10 million. Barkley is asking for a new deal, and there have already been rumors about him sitting out.
Barkley has had an up-and-down career. Coming out of Penn State, Barkley kicked off his career with back-to-back 1,000-plus-yard seasons. He went over 1,000 rushing yards in 2019 despite missing three games. He had 17 touchdowns on the ground in his first two years. In his rookie season, he added a great 91 receptions for 721 yards and four scores, going for over 2,000 yards.
The next two years would be filled with injuries as Barkley tore his ACL in Week 2 of 2020 and missed several games in 2021. He rushed for 593 yards on 162 carries and two scores and added 41 receptions in 2021.
After two seasons with injury and production concerns, Barkley bounced back in 2022, rushing for 1,312 yards on 295 carries and 10 touchdowns. He also caught 57 passes for 338 yards.
Worth It?: It's hard to tell. Barkley had a resurgence in 2022, but the injury concerns from 2020 remain. In a perfect world, Barkley would play on the tag for the Giants. Financially speaking, they should keep Barkley on the roster on the franchise tag and wait to see how he performs. This differs from the McCaffrey situation because he signed his deal when he was 23, unlike Barkley, who's 26.
Rashaad Penny: Seattle Seahawks (No. 27 Overall, 2018)
Hampered by injuries throughout his career, Rashaad Penny has always shown flashes. That said, the sample sizes are minuscule. He's had more than 100 rush attempts in a season just once (2021) and has never really added anything to the passing game. This offseason, he signed a one-year deal with the Philadelphia Eagles for about $1 million.
Worth It?: No. Penny has never stayed healthy throughout his career.
Sony Michel: New England Patriots (No. 31 Overall, 2018)
In his rookie season, Sony Michel had a stellar season, including 1,267 rushing yards on 280 carries and 12 touchdowns. These statistics included the postseason, which resulted in a Patriots Super Bowl victory. Michel had two games with 113 rushing yards or more during the playoffs and six touchdowns.
Following his rookie season, Michel's efficiency dipped in 2019, going for fewer than 1,000 yards and seven touchdowns.
In 2020, he played his final season with the Patriots. He was placed on the COVID-19 list and, at the start of training camp, was placed on the physically unable to perform list. In August 2021, he was traded to the Los Angeles Rams for a fifth- and sixth-round pick. In his first season with the team, he had 925 rushing yards on 234 carries and four touchdowns. He won another Super Bowl but had just 13 postseason carries for 22 yards.
Since this, Michel signed with the Miami Dolphins, got released, signed with the Los Angeles Chargers, and got released. He had just 36 carries in 2022.
Worth It?: Believe it or not, yeah, kind of. Michel served his purpose, helping lead the team to a Super Bowl in his rookie season. That alone is worth the No. 31 pick.
Josh Jacobs: Las Vegas Raiders (No. 24 Overall, 2019)
Heading into his fifth season, Josh Jacobs was on the verge of being let go by the Raiders. He had over 1,000 yards in his first two seasons and 955 yards in his third. Since his rookie season, he averaged just four yards per carry. In his first season with incumbent head coach Josh McDaniels, Jacobs played in the Hall of Fame game, prompting speculation that he might be headed off the team. The team also declined his fifth-year option.
In 2022, Jacobs led the league in rushing with 1,653 yards and had 12 touchdowns on 339 attempts.
It's been a wild career so far for Jacobs, who's currently under the franchise tag for the team.
Worth It?: The jury is still out. Jacobs has been a solid back but was on another level in 2022. The Raiders played themselves a bit by declining the fifth-year option, but no one expected this type of explosion. Let Jacobs play out the year and see how he does.
Clyde Edwards-Helaire: Kansas City Chiefs (No. 32 Overall, 2020)
Considered a luxury selection and hand-picked by quarterback Patrick Mahomes, Clyde Edwards-Helaire was another fantasy football favorite. During his career, CEH has seen less and less action each season. In his rookie season, he had 874 yards on 196 carries and had five touchdowns. He added 39 receptions for 320 yards and a touchdown.
Since 2020, CEH has fewer than 1,000 rushing yards and seven rushing touchdowns. He spent time on injured reserve in 2021 and 2022. However, in 2022, he lost his starting job to Isiah Pacheco, a seventh-round pick. He didn't play in the team's Super Bowl win over the Eagles.
Worth It?: No. CEH hasn't had the impact that was expected since joining the league. Pacheco, a seventh-rounder, has supplanted him. When you look at the 2020 draft, just imagine if the Chiefs instead took Tee Higgins, who was selected with the very next pick, No. 33 overall, atop the second round.
Najee Harris: Pittsburgh Steelers (No. 24 Overall, 2021)
Heading into the 2021 draft, Najee Harris going to the Steelers felt like a foregone conclusion to help them re-energize their rushing attack. However, many were skeptical of the situation due to how bad the Steelers' offensive line was. Harris ran for 1,229 yards on 319 carries in his rookie season and had seven scores. He also played that season with an aging Ben Roethlisberger, who enjoyed chucking the ball down to him. Harris had 76 receptions for 466 yards and three scores.
In 2022, with a combination of quarterbacks — including rookie Kenny Pickett and veteran Mitchell Trubisky — Harris had 41 receptions for 229 yards and three scores. He had 1,038 yards and seven touchdowns on the ground on 272 carries.
Backup running back Jaylen Warren showed some flashes as Harris continued to be inefficient.
Worth It?: So far, not really. The rationale for drafting Harris seemed misguided. He's had less than four yards per carry in his two seasons. The Steelers need to continue to build the offensive line. Thankfully, they have up to three more seasons with Harris if they pick up the fifth-year option.
Travis Etienne: Jacksonville Jaguars (No. 25 Overall, 2021)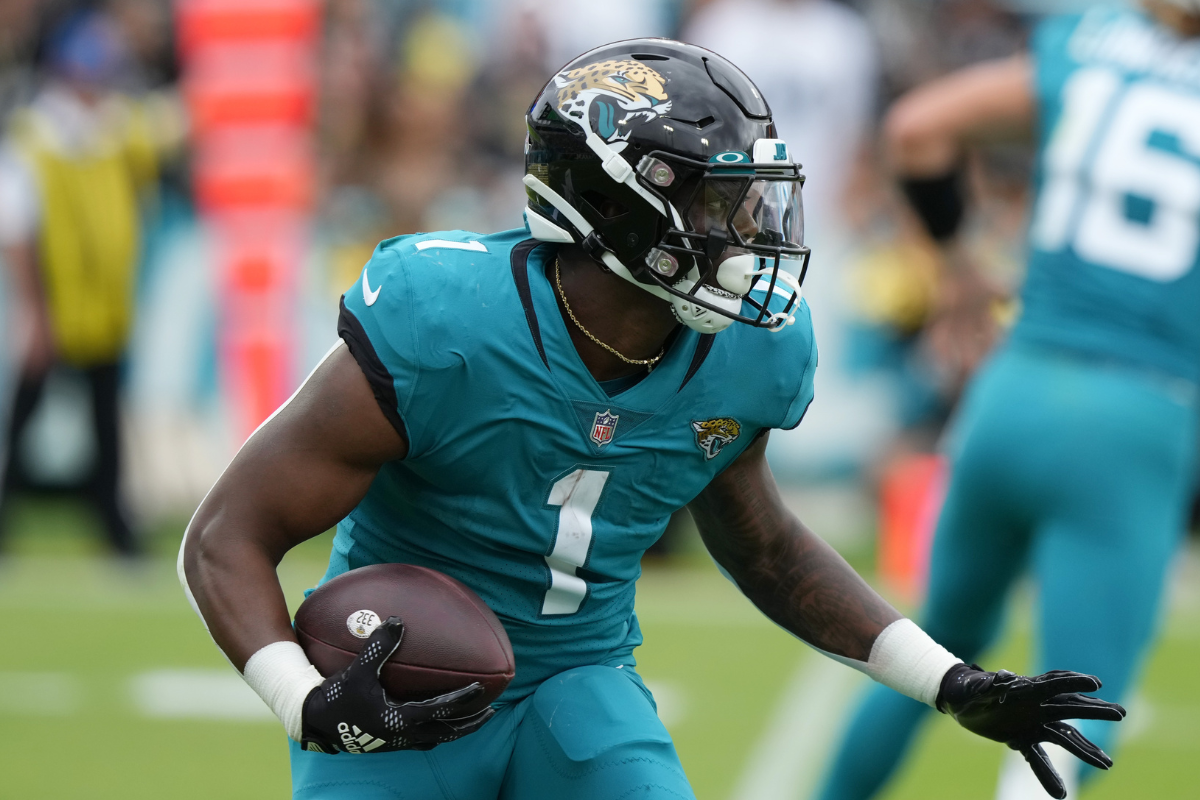 Travis Etienne missed his entire rookie season due to a lisfranc injury. This was the season when Urban Meyer was the head coach, which was atrocious for the team. In his second season under Doug Pederson, Etienne was excellent. He had 251 carries for 1,291 yards (5.1 yards per carry) and six touchdowns. He added 39 receptions for 346 yards.
Worth It?: It's hard to tell. Etienne had an excellent "rookie" season and is on an ascending Jaguars team that played in two playoff games in 2022-23. It'll be intriguing to see if his passing game involvement grows.
Want More Sports News?
Get the biggest and best sports news sent directly to your inbox.