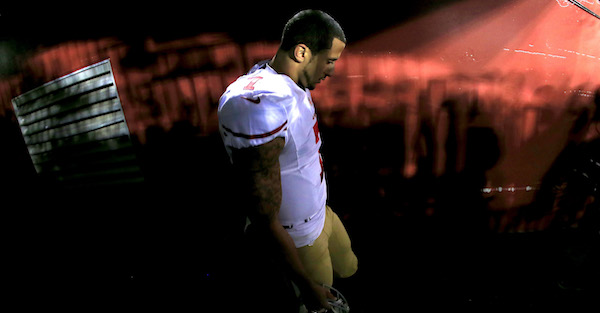 Rob Carr/Getty Images
LANDOVER, MD - NOVEMBER 25: Quarterback Colin Kaepernick #7 of the San Francisco 49ers walks through the tunnel before taking on the Washington Redskins at FedExField on November 25, 2013 in Landover, Maryland. (Photo by Rob Carr/Getty Images)
Despite changing his stance on kneeling during the national anthem, NFL executives are still wary of quarterback Colin Kaepernick, per Bleacher Report:
"Some of these (NFL) execs, reached during the combine, said they felt the same way about Kaepernick now. One called him "an embarrassment to football." Other front office personnel whom I asked about Kaepernick during the combine said they were happy to see he had adjusted his stance toward kneeling during the anthem (Kaepernick will stand for the anthem next year, ESPN's Adam Schefter reported)."
Kaepernick won't kneel
From ESPN:
Kaepernick no longer wants his method of protest to detract from the positive change that he believes has been created, sources told ESPN. He also believes the amount of national discussion on social inequality — as well as support from other athletes nationwide, including NFL and NBA players — affirmed the message he was trying to deliver.
It was is a weird twist in all the controversy that has been surrounding Kaepernick, as the quarterback notably started kneeling during the national anthem during the NFL preseason as a form of protest against racism and police brutality, among other things. Kaepernick's protest continued throughout the season, and many wondered how it would impact his standing with other teams during a potential free agency.
Purely the football player
From a purely on-the-field perspective, Kaepernick will be a fascinating free agent as a former Super Bowl quarterback who looked on the cusp of becoming one of the top young players in the NFL.
He became a vegan, injured his shoulder, lost a ton of weight and made plenty of political statements by kneeling during the national anthem.
After a frustrating 2015 campaign where the 49ers only won two games and Kaepernick regressed, throwing for just 1,600 yards, six touchdowns and five interceptions, the quarterback bounced back in 2016 despite his team actually getting worse.
Kaepernick threw for 2,241 yards, 16 touchdowns and four interceptions last season.
And now he'll test the open market.