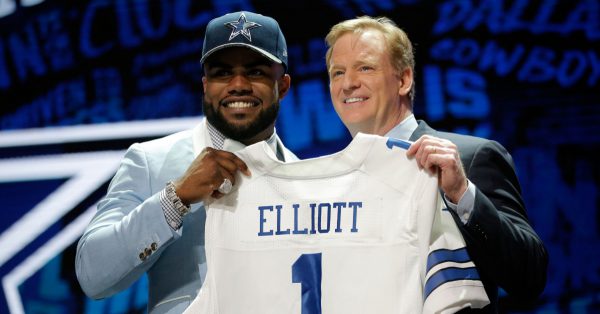 Jon Durr/Getty Images
CHICAGO, IL - APRIL 28: (L-R) Ezekiel Elliott of Ohio State holds up a jersey with NFL Commissioner Roger Goodell after being picked #4 overall by the Dallas Cowboys during the first round of the 2016 NFL Draft at the Auditorium Theatre of Roosevelt University on April 28, 2016 in Chicago, Illinois. (Photo by Jon Durr/Getty Images)
While the Columbus City Attorney General's office declined to press charges against Ezekiel Elliott stemming from domestic violence allegations against the running back, the NFL's investigation is reportedly ongoing.
According to the USA Today, NFL investigators recently interviewed Elliott as part of an ongoing probe. The investigation is reportedly in light of the handling of former New York Giants kicker Josh Brown's domestic abuse case as well as former Baltimore Ravens running back Ray Rice.
This comes after a woman tagged Elliott on pictures on Instagram, detailing allegations against the former Ohio State Buckeye.
The woman tagged Elliott in one of the posts, and here's the caption from the first photo:
"Just for every women out there getting abused it's time to put a stop to it. This has been happening to me for months and it finally got out of control to where I was picked up and thrown across the room by my arms. Thrown into walls. Being choked to where I have to gasp for breath. Bruised everywhere, mentally and physically abused. It's not okay. So I want each and everyone one of you girls to step away now from domestic violence. You're worth so much more. I got told it was called "tough love" I'm sorry if you love someone you don't touch your loved ones."
Elliott's reps told TMZ, "I can assure you [the allegations] are not true."
Reports then came out including Elliott's response:
Elliott is the NFL's leading rusher, with 703 yards on the ground.