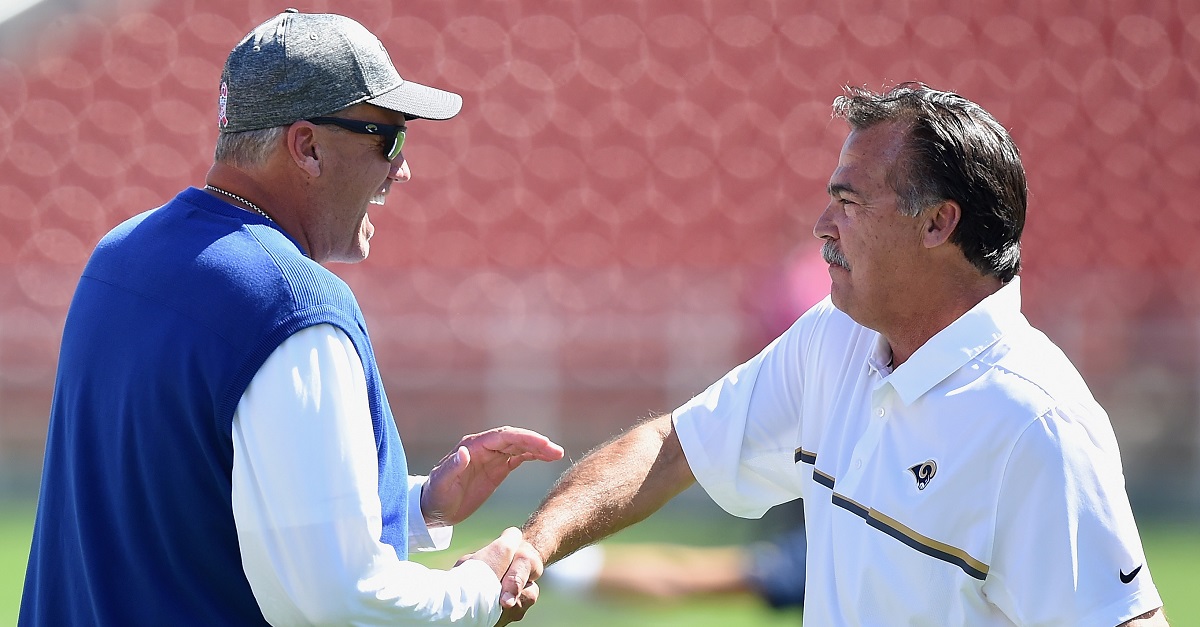 Harry How/Getty Images
LOS ANGELES, CA - OCTOBER 09: Head coach Rex Ryan of the Buffalo Bills greets head coach Jeff Fisher of the Los Angeles Rams before the game at Los Angeles Memorial Coliseum on October 9, 2016 in Los Angeles, California. (Photo by Harry How/Getty Images)
It's not uncommon for head coaches to pair with certain coordinators and position coaches as they move from team to team. That was the case for Rex Ryan when he needed to make a hire for the 2016 season on the defensive side of the ball. He brought in his brother Rob, but not as the defensive coordinator. He was an assistant head coach and was supposed to have some say in the defense. However, it may have been the hiring of Rob that was the ultimate downfall of Rex in the end as Rex was fired after the 2016 season.
RELATED: Rex Ryan lands ESPN gig
According to Gary Myers of the New York Daily News, Rex "basically dedicated the 2016 season to resurrecting the reputation" of Rob Ryan, who had been fired by the Saints (after being fired by the Cowboys). Myers also wrote that "Rob was not the Bills defensive coordinator but had the run of the place. He was almost the co-head coach."
Myers then went on to say that the entire staff became dysfunctional because of it and that "some of [Rex's] actions behind the scenes were indicative of a coach with a death wish." Myers didn't give specifics on what exactly the Ryan brothers were doing, but it doesn't sounds great.
Rex Ryan probably doesn't feel all that bad about it as he is owed $16.5 million over the next three years minus whatever ESPN is paying him at his new job.
[h/t Pro Football Talk]