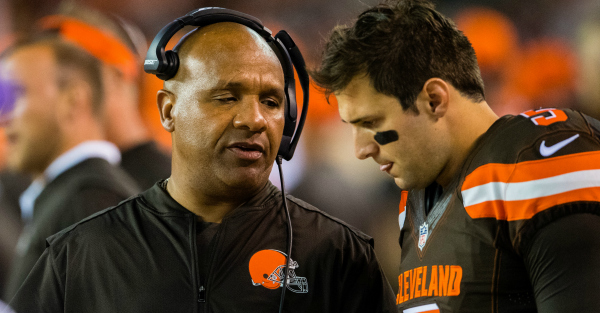 Jason Miller/Getty Images
CLEVELAND, OH - SEPTEMBER 1: Head coach Hue Jackson talks with quarterback Cody Kessler #5 of the Cleveland Browns during the third quarter against the Chicago Bears at FirstEnergy Stadium during a preseason game on September 1, 2016 in Cleveland, Ohio. The Bears defeated the Browns 21-7. (Photo by Jason Miller/Getty Images) *** Local Caption *** Hue Jackson
The Cleveland Browns have the No. 1 overall pick, and for months, the consensus has been that the franchise will select defensive end Myles Garrett with the top pick.
Browns coach Hue Jackson and the coaching staff are "all in" on Garrett, but according to CBS Sports' Jason La Canfora, the Browns' ownership is considering taking quarterback Mitchell Trubisky first overall.
Related: Cleveland Browns make the call on potentially trading for one of two franchise QBs
However, La Canfora also said the Browns could still potentially make a trade for a QB?and New England Patriots backup Jimmy Garoppolo is still on the team's radar.
Trubisky is from Ohio, and he wants to play for the Browns. La Canfora reported that the Browns will either take Garrett or Trubisky with the first overall pick.
It's possible the Browns could get both players if they wanted them. They could trade up for Trubisky since they also have the No. 12 pick, and there are likely a couple of teams in the top 10 that would be willing to trade back.
The Browns will likely be linked to Garoppolo until draft night. Garrett is the top player on most NFL draft boards, and he will continue to be the top target for the Browns. However, if ownership overrules Hue Jackson, the Browns could shock the league and take Trubisky No. 1 overall.
(h/t RotoWorld)