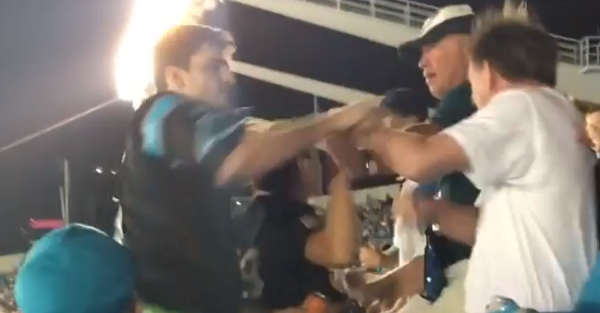 @odubco/Instagram
The Carolina Panthers suffered a hard-fought 28-23 home loss to the Philadelphia Eagles on Thursday evening and the entire country was able to see it. That is, of course, the nature of a nationally televised contest in prime time, but while the vast majority of fans likely handled things as well as could be expected, one fan in Charlotte absolutely did not.
In short, the fan decided it would be a good idea to sucker punch a defenseless older man in the stands at Bank of America Stadium and it was captured on video. (h/t Crossing Broad)
As you can see, it was absolutely brutal and apparently accompanied by wildly inappropriate language as well. The video is making the rounds on Friday, and with good reason, to the point that the NFL is now in contact with the Panthers, per Ian Rapoport.
This is completely unacceptable behavior and, frankly, assault. In short, this fan may not be able to return to that particular venue and that, at a bare minimum, would be the right outcome.