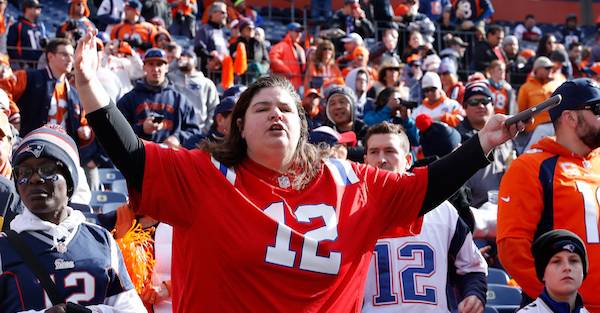 DENVER, CO - JANUARY 24: A New England Patriots fan looks on before the AFC Championship game against the Denver Broncos at Sports Authority Field at Mile High on January 24, 2016 in Denver, Colorado. (Photo by Christian Petersen/Getty Images)
Over a year later and New England Patriots fans aren't just rolling over and dealing with the DeflateGate punishment handed down by the NFL.
Seven fans put together a complaint through the U.S. District Court in Boston, alleging common law fraud, negligence, intentional inflection of emotional distress, and racketeering in an attempt to retain New England's 2016 first-round pick taken away by the NFL as part of the team's punishment stemming from DeflateGate, per ESPN.
The suit takes aim at Roger Goodell for the punishment he handed down to the team and quarterback Tom Brady, and at team owner Robert Kraft for not fighting hard enough against the punishment, instead choosing, "his fellow billionaire owners above the plaintiffs and fellow fans," according to the report.
A sports law expert told the Boston Herald (per ESPN) the case was a Hail Mary for fans, because they have no standing in the matter and paying to watch a game is not affected by losing draft picks.
Team owner Robert Kraft wrote a letter to the league asking for NFL commissioner Roger Goodell to hand over the team's first-round pick earlier this year, and was denied.