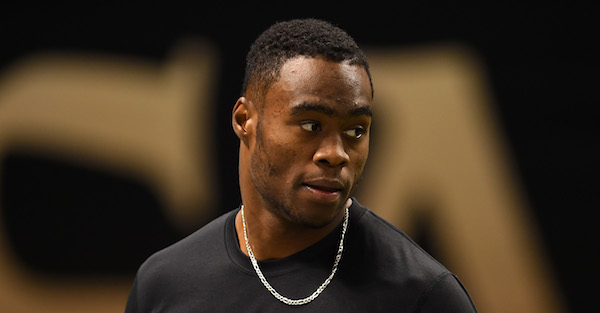 Stacy Revere/Getty Images
NEW ORLEANS, LA - NOVEMBER 16: Brandin Cooks #10 of the New Orleans Saints warms up on the field prior to the start of the game against the Cincinnati Bengals at Mercedes-Benz Superdome on November 16, 2014 in New Orleans, Louisiana. (Photo by Stacy Revere/Getty Images)
Former New Orleans Saints first-round pick Brandin Cooks may be on the move, and his current team is apparently waiting for the best offer.
Cooks, just 23 years old, is reportedly holding out for a trade offer for a draft pick in the middle of the first round, per NOLA.com.
The Saints have reportedly received an offer of the No. 32 overall pick from the New England Patriots, along with second-round pick offers from various other teams.
According to the report, at least five teams have made reached out, including the Tennessee Titans and Philadelphia Eagles.
Cooks has produced more than 1,000 yards and eight touchdowns in each of his three seasons as a pro. The former No. 20 overall selection is expendable with additional wideouts Willie Snead and Michael Thomas on the roster.
He's in the final year of his contract and will likely demand a hefty pay raise on his next contract.