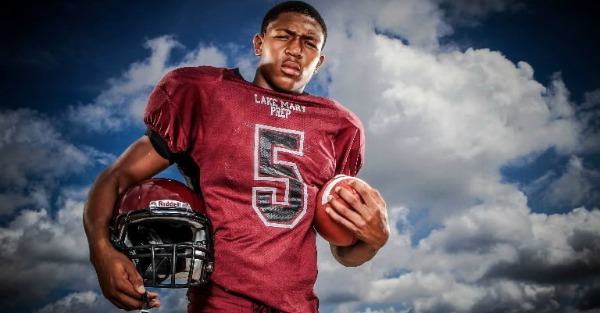 Orlando Sentinel via Twitter
The son of retired Baltimore Ravens legend Ray Lewis, Ray Lewis III, has had a charge of third-degree criminal sexual conduct dismissed, according to several media reports.
A grand jury called by the Horry County County (S.C.) Fifteenth Judicial Circuit Court, indicted Lewis III with third-degree criminal sexual conduct after an 18-year-woman told authorities Lewis III assaulted her in his dorm room following an off campus party in Jan. of 2016.
Lewis III's attorneys, however, claim the sex was consensual, and said the women who made the allegations planned to sue him for "a ton of money," according to a report on WISTV.com. The Orlando Sentinel reported court records showed discrepancies in the accuser's allegations, and uncovered the text messages that referenced suing the Lewis family for "a ton of money."
While Lewis attorney was happy with the outcome, his family is still reeling. Lewis III's mother, in a text message to the Sentinel, noted that her son has been harmed as a result of the case. Lewis III was kicked off the Coastal Carolina football team after the charges were filed.
?He was targeted and falsely accused by opportunists," Tatyana McCall wrote. "We were confident that when the facts of this case were evaluated in their totality, the ill intent and personal agenda of his accusers would be revealed." She went on to say that she considered the allegations an "attempt to extort money.."
Lewis III played 12 games for the Chanticleers last season after transferring from his father's alma mater (Miami). His father, Ray Lewis, is a Hall of Famer and Super Bowl winner for the Baltimore Ravens who is now a broadcaster for ESPN.