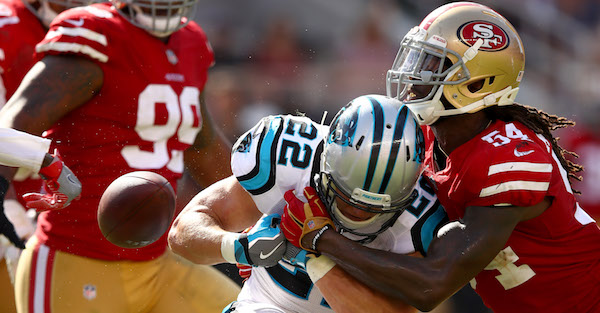 Ezra Shaw/Getty Images
SANTA CLARA, CA - SEPTEMBER 10: Christian McCaffrey #22 of the Carolina Panthers fumbles the ball as he is hit by Ray-Ray Armstrong #54 of the San Francisco 49ers at Levi's Stadium on September 10, 2017 in Santa Clara, California. (Photo by Ezra Shaw/Getty Images)
San Francisco 49ers linebackers Reuben Foster and Ray-Ray Armstrong were at the club Love and Propaganda in San Francisco after the 49ers lost to the Washington Redskins on Sunday when the two were nearly robbed at gunpoint.
The incident took place at about 2 a.m. on Monday morning when Foster noticed a white Audi with tinted windows driving around the building, according to Mission Local. Foster said he felt like he was going to be robbed, and he handed his watch and rings to a female friend, and the two linebackers asked a security guard to walk with them and another man to their car.
Regardless of the security presence, two men in white hoodies appeared from the Audi with an assault rifle and handgun and pointed the weapons at the men. The two linebackers turned and ran, which caused the assailants to turn back to their cars.
Foster and Armstrong eventually arrived at a Hotel, and notified the police. They avoided injury and didn't have anything stolen.
According to Mission Local, a veteran police officer from the San Francisco Police Department praised the two players for getting the security guard to go with them to their car. It's also a credit to the duo's athletic ability that they were able to escape without being harmed.
Related: Report: Ezekiel Elliott's win over the NFL may be even larger than initially thought
Team spokesman Bob Lange said the two are cooperating with the police.
"We are aware of the reports regarding the robbery and are very thankful no one was harmed. Reuben and Ray-Ray have been, and will continue to be, cooperative with any further police investigation," Lange said.
The alleged suspects are still at large, but there was video of the incident.
Luckily, the two linebackers were able to stay safe, and hopefully the authorities can locate the two alleged suspects.
(h/t Misson Local)