You can boo him all you want, but when NFL Commissioner Roger Goodell steps off the stage (or out of his basement in 2020) at the conclusion of the NFL Draft every year, he's probably laughing all the way to the bank.
As commissioner of the National Football League and "protector of the shield," Goodell has ruffled nearly everyone's feathers since beginning his tenure as commissioner in 2006.
The 63-year-old has been criticized for his handling of things like the Colin Kaepernick national anthem fiasco, the league's domestic violence policy regarding players like Ray Rice, the severity of penalties imposed on Saints coaches and players involved in Bountygate and the New England Patriots, Tom Brady and the Spygate and Deflategate scandals.
For all of Goodell's negative moves in NFL history, there are positives as well. He was instrumental in working toward a new collective bargaining agreement that ended the 2011 lockout and played a big role in finalizing the league's newest CBA in 2020. He's led the NFL's growth overseas in Europe and in Mexico with the NFL International Series, as well as on TV with the launch of NFL Network. He's been committed to making the league safer by limiting concussions and banning dangerous hits.
Goodell is the head honcho for the biggest pro sports league in the United States and the world, which makes him the single most powerful person in sports. It'd be an understatement to say he's been compensated accordingly so. Hey, he's still a businessman after all.
So what's Roger Goodell's net worth? Let's dig into how he's built his fortune.
Roger Goodell Started as an Intern
During a morning visit to the @wjcollege @wjcUGMLibrary archives, I decided to crack the 1981 yearbook to find a notable alum. Success. Seated on the stone wall in front of Old Main. @wjathletics @nflcommish @NFL @MHURogerGoodell #rogergoodell @rl_rogergoodell @ProFootballHOF pic.twitter.com/TVdWTTpurh

— David Strittmatter (@DavidStritt) December 11, 2018
RELATED: Roger Goodell's Wife Retired From Her Impressive Career to Raise Their Kids
Born Roger Stokoe Goodell to parents Jean and United States Senator Charles Ellsworth Goodell in Jamestown, New York, Roger was a three-sport star at Bronxville High School, where as a senior he was named the school's athlete of the year.
Goodell didn't play any of his sports while he attended Washington & Jefferson College in Washington, Pennsylvania, where he earned a degree in economics in 1981. Injuries kept Goodell from excelling as a college football player. Perhaps if he were to have stayed healthy, he may have had a professional career in the NFL, not just an executive one.
Believe it or not, the most powerful man in the athletics world began his career in football as a lowly intern. In 1982, he wrote letters to all 28 teams in the league office, as well as Commissioner Pete Rozelle, before accepting a position as an administrative intern for the league office in New York.
Here is the letter Roger Goodell wrote in July 1982 to then-Commissioner Pete Rozelle inquiring about a job: pic.twitter.com/3pDJQphN

— SI Vault (@si_vault) October 24, 2012
One year later, the New York Jets hired him as an intern before he returned to the league office as a public relations department assistant in 1984. It wasn't until 1987 that Goodell began to move up the totem pole, when he served as assistant to the president under the legendary Lamar Hunt, the president of the American Football Conference (AFC).
By 2001, Goodell was appointed the NFL's Executive Vice President and Chief Operating Officer (COO) under former commissioner Paul Tagliabue. Then in 2006, Goodell beat out four other finalists in a close vote by team owners to become the league's eighth commissioner.
Roger Goodell's Salary is More Than Any Player
I've already covered some of Goodell's major decisions and actions as commissioner, such as the implementation of the Personal Conduct Policy, so let's skip to the financial details of his tenure. Look away if you're not a fan of him.
Forbes reported that from 2006 (Goodell's inaugural year) until 2017 (prior to his multi-year deal and contract extension) Goodell made a whopping $212.5 million as commissioner of the league. Over the last year reported, he took home a jaw-dropping $32 million in 2015.
That number alone was more than any NFL player salary — including the top seven, which are all quarterbacks making around $30 million per year — despite them putting their health on the line every time they take the field.
What's scary is Goodell could rake in even more money under his contract extension in 2017 that is set to keep him as commissioner through the 2023 season.
As ESPN's Adam Schefter reported, Goodell made a base salary of $4 million in 2019 in what is part of the five-year contract that could be worth as much as $200 million if a number of incentives are met. According to Sports Illustrated, he's made nearly $64 million each of the last two years.
Goodall's contract extension, of course, was met with plenty of skepticism across the league. Even former president Donald Trump once said in a video he would fire him.
Dallas Cowboys owner Jerry Jones, a billionaire himself, wasn't happy with the contract following the six-game suspension of Cowboys star running back Ezekiel Elliot. Jones, however, claimed he was against a six-person compensation committee comprised of NFL owners negotiating with Goodell without input from every owner (including Jones).
The bottom line is that Goodell has been a money-making machine for team owners, and money talks. As Forbes notes, when Goodell took over in 2006, the average NFL franchise was worth less than $900 million and had profits of $31 million. A decade later, those numbers had jumped to $2.5 billion and $101 million. Those are impressive numbers.
The NFL, including its football operations and business functions, is growing, too. Right now, NFL's annual revenue is at about $15 billion and is trending toward Goodell's goal of $25 billion by 2027.
What is Roger Goodell's Net Worth?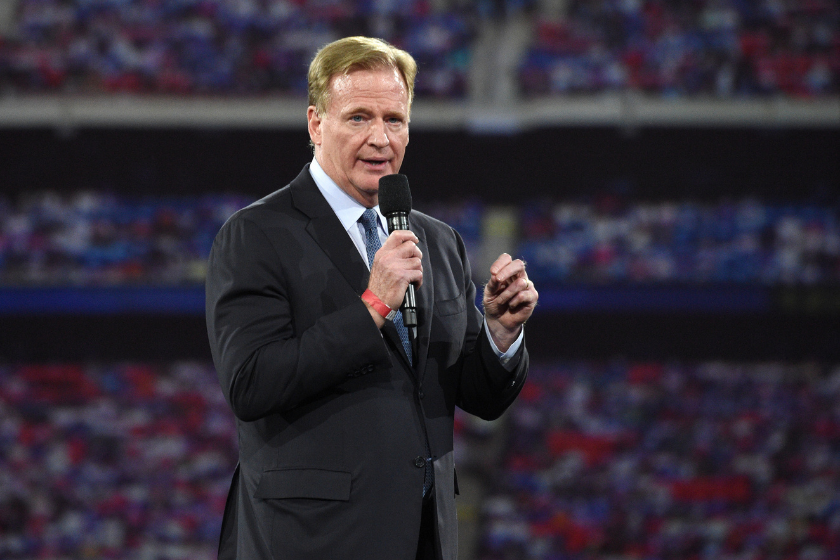 Despite the scandals and negative press that have plagued Goodell's career, he's been instrumental in the NFL's expansion and success since 2006. For that, he's made a boatload of money and will keep cashing in for years to come.
Goodell's estimated net worth is $200 million, according to Celebrity Net Worth.
Goodell is married to former Fox News Channel anchor Jane Skinner and has twin daughters. Based on his net worth and what Skinner takes home, it appears the Goodell family is set for life.
Based on his contract extension and the job he's done growing the league, it doesn't appear Goodell is going anywhere. Get used to booing him for years to come at the podium prior to that first overall selection or at the Super Bowl on CBS, FOX or NBC.
Want More Sports News?
Get the biggest and best sports news sent directly to your inbox.