The 14-game Sunday Week 1 NFL slate caps off with the Tampa Bay Buccaneers on the road against the Dallas Cowboys. These two teams project to be in the playoffs by the time the regular season ends and are odds-on favorites to win their respective divisions.
There are many headlines to discuss here, including Buccaneers quarterback Tom Brady coming back after unretiring this offseason and the Cowboys trading wide receiver Amari Cooper to the Cleveland Browns for a fifth-round pick.
Here, we'll look at the point spread, over/under line, and give some advice on player prop bets.
Let's make some money.
Tampa Bay Buccaneers vs. Dallas Cowboys Best Bets
Tampa Bay Buccaneers -2.5 (-115) at DraftKings
The Buccaneers head into this game with some holes along the offensive line following multiple starters from last year leaving the team or retiring, but they still have Tristan Wirfs at right tackle. They will also sport Shaq Mason and Donovan Smith to plug the gaps.
Wirfs will have an excellent matchup against Demarcus Lawrence off the edge, and Micah Parsons will also be a dominant factor. Other than that, the Buccaneers should be able to hold up.
The secondary is fine with Trevon Diggs often looked at as one of the best cornerbacks in the league, but don't let his knack for interceptions fool you--he still gives up plenty of yardage and draws Mike Evans, Chris Godwin, and more this week.
Even after losing Cooper, the Cowboys always have a great offense with Dak Prescott at quarterback, Ceedee Lamb at receiver, and Dalton Schultz at tight end. Of course, the depth behind them is a bit of a question mark with Noah Brown and taking a wait-and-see approach on Jalen Tolbert.
They'll also have Tony Pollard and Ezekiel Elliott running and catching passes out of the backfield.
All that said, the Buccaneers are just a much better team. Their run defense should do a good job of keeping Elliott in check, and the Buccaneers have a clear receiving target to keep tabs on in Lamb.
The Cowboys brought in Jason Peters to fill in for Tyron Smith at left tackle. Still, the Buccaneers have some potent pass rushers in Shaq Barrett, Vita Vea disrupting the middle of the offensive line and Joe Tryon-Shoyinka in his second season.
The Buccaneers pull this one off, 30-24.
Over 51 (+100) at DraftKings
RELATED: Why are the Dallas Cowboys Called "America's Team"?
Despite our prediction of the Buccaneers pulling this one out, that doesn't mean the Cowboys will be stagnant on offense.
We think the Buccaneers will drop 30 due to Brady being Brady and his ability to get the ball out quickly. He goes up against a secondary with big-play upside, but that won't happen against the greatest of all time.
The Cowboys still have plenty of options, and Prescott won't go quietly. Lamb is already one of the better receivers in the league and in a one-on-one matchup, he'll win almost every time. The Buccaneers will need to emphasize him in their defensive game planning. Still, Schultz is emerging as one of the better pass-catching tight ends in the league, too.
As mentioned, they will be on their way to the playoffs. Both have quarterbacks that are somewhat matchup proof, and they'll be able to put points on the board--it's just that the Cowboys will put up less in this particular matchup.
Tom Brady Over 2.5 Passing Touchdowns (+165) at DraftKings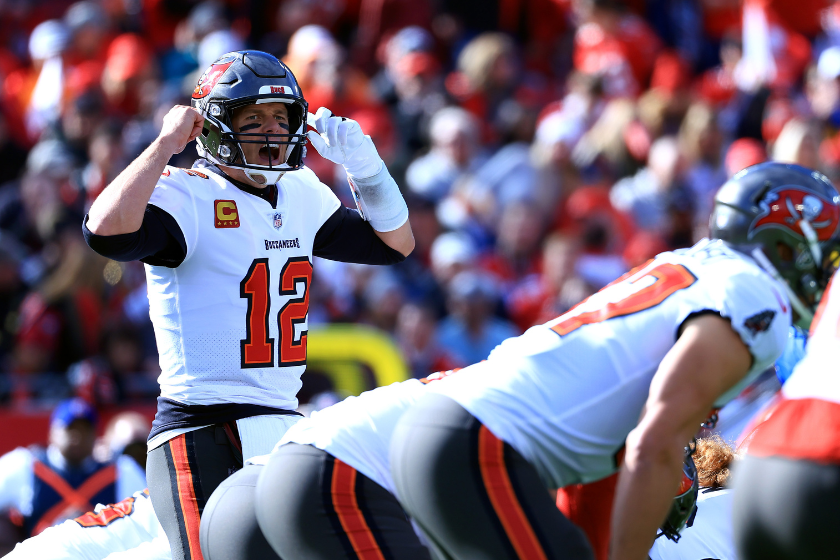 RELATED: Tom Brady's Terrible NFL Combine Performance is Proof the GOAT was Once Human
In projecting this game to have the equivalent of four touchdowns, it's only logical to arrive at a conclusion in which Brady is responsible for many of those.
Running back Leonard Fournette has a solid matchup on the ground with the majority of the Cowboys' front seven performing much better rushing the passer in 2021.
There's also always that chance we get a patented one-yard quarterback sneak from Brady. Still, this matchup provides multiple avenues for Brady to get over 2.5.
First, as mentioned, the Cowboys secondary is led by Diggs, but he gives up plenty of yards.
Wide receiver Chris Godwin should suit up in this one, giving Brady multiple options all over the field to look to.
The narrative of Brady coming back after unretiring and having some off-field issues during the preseason is something to keep in mind. If Brady comes out and throws for multiple touchdowns, that chatter should dissipate.
From the backfield, it's also not unheard for Fournette to take a catch out of the backfield and score, too.
At +165 on DraftKings, the value is fantastic for a matchup that Brady should have minimal trouble against.
Leonard Fournette Under 4.5 Receptions (+115) at DraftKings
RELATED: Leonard Fournette's 100-Yard Return Against Notre Dame Nearly Went Untouched
We just alluded to Fournette as a likely candidate to catch passes out of the backfield and find the endzone, but at +115 value this wager is worth looking into.
In 2021, Fournette went over 4.5 receptions in seven games. However, in the 2022 NFL Draft, the Buccaneers drafted Rachaad White in the third-round who profiles as an excellent pass catcher.
In his final season with Arizona State, White caught 43 passes for 456 yards and scored, but the Buccaneers seem to want to install him as that James White-like role that Brady had in New England.
The team has Giovani Bernard and Ke'Shawn Vaughn, but it's clear they will look toward White after investing a top-100 pick in him.
The addition of White could result in just a few fewer targets for Fournette landing just under this 4.5 line.
Fournette should be able to run the ball well, and Brady should hook up reasonably well with his receivers. Fournette may not need to catch the ball in the same way he did in 2021 this season.
There's no guarantee here, as Brady obviously likes to utilize Fournette in the passing game. Still, the +115 value is worth taking a swing on.
Statistics courtesy of Pro Football Reference, Sports Reference, and Pro Football Focus (subscription required).
Enjoy all things sports?
Don't miss a story! Sign up for daily stories delivered to your inbox.