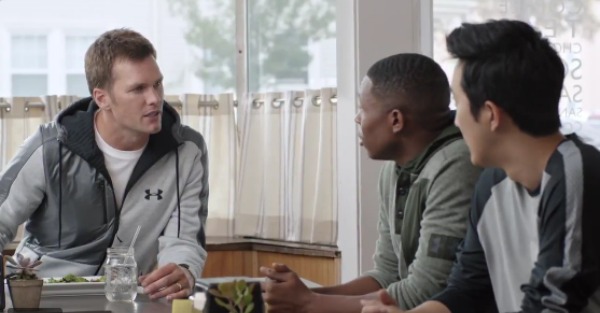 Twitter screen shot
Tom Brady's been fairly quiet about Deflategate since returning from his four-game suspension last month.
In fact, he's shown nothing but class, taking the high road on the issue even when asked by reporters for his feelings on it. Mum's pretty much been the word. Until now, that is. Brady pokes fun at the whole fiasco in a new Foot Locker commercial.
The spot features two young Foot Locker patrons at a restaurant wondering out loud how the store's annual Thanksgiving sale is continually great every year. Seated next to them is Brady, who overhears their conversation and cuts them off with a frustrated reply:
"Just because something is great year after year doesn't mean anything is going on. Such questions "turn into assumptions, and then assumptions turn into vacations."
RELATED: Gronk admits this was the hardest he's ever been hit
And based on those pictures of a nude Brady sunning himself somewhere in Italy during his four-game respite, it was one hell of a vacation.