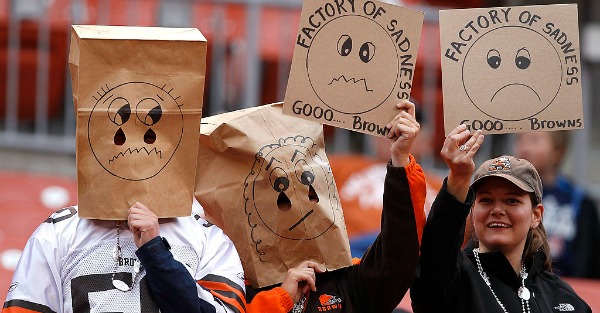 Matt Sullivan/Getty Images
How in the world could there possibly be a silver lining to the Brown's 0-11 record?
Let's see. In addition to sparse crowds at home games, nonexistent traffic issues at home games, and so few fans in the seats that you can pretty much sit wherever you want after the first quarter, there's now tickets starting as low as $6 for the Browns three remaining home games.
That's right. After Cleveland lost to the Steelers Sunday to move within five games of finishing the 2016 season winless, ticket prices for Browns home games dropped to as low as $6 for upper deck seats on Stubhub.
RELATED: Johnny Manziel is in trouble yet again
So, for about the price of a fast food combo meal, you can watch Cleveland try and complete their perfect season and go 0-16. At those prices the Browns might actually sell out First Energy Stadium for once.
Or, Browns fans could decide fast food is far more appealing.