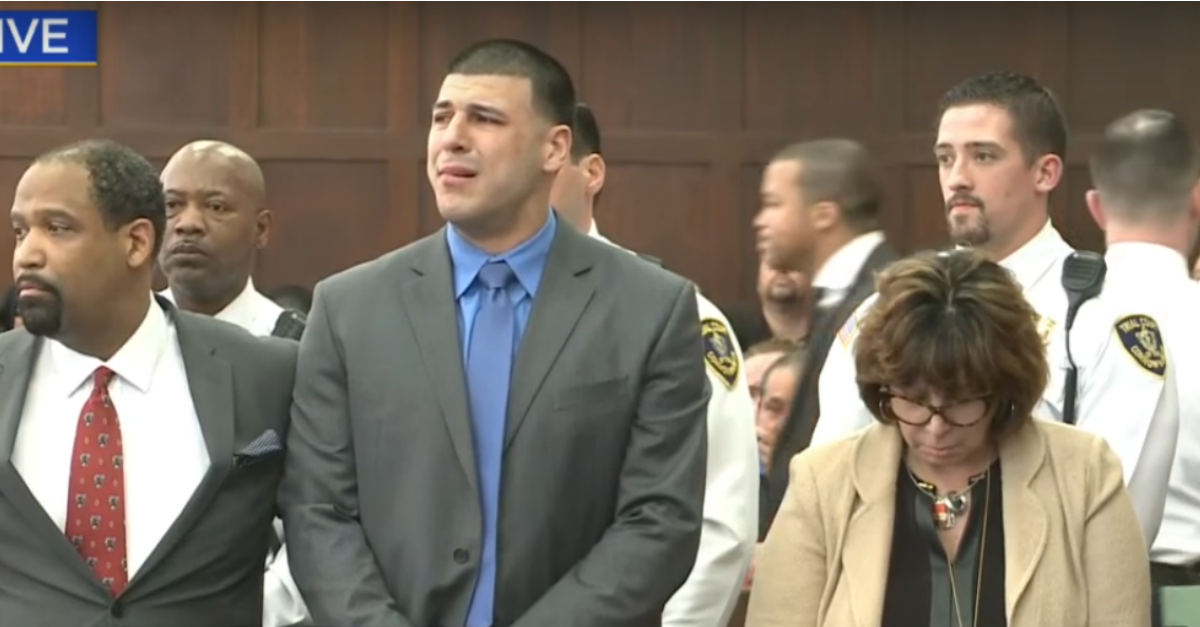 WBZ-TV Screen Shot
As the verdicts were read, in court Friday, Hernandez couldn?t keep his composure.
He was acquitted in a double-murder in a decision that sent shock waves through the sports and legal world. The trial featured a witness that testified Hernandez pulled a trigger, yet his all-world attorney, Jose Baez, expertly convinced a jury of his client?s innocence.
The just had little to say, and released a short statement after the verdict:
Now, Baez ? the man who also gained a not guilty verdict in the Casey Anthony case ? can turn his attention to overturning Hernandez?s conviction in the Odin Lloyd murder.
How we?ve arrived at this point, and what comes next, is a fascinating case study of a fallen football player fighting for any semblance of a life, and the A-list counsel who is, arguably, one of the hottest criminal lawyers around.
The Odin Lloyd murder, as well as the killings of Daniel de Abreu and Safiro Furtado, are all linked, prosecutors have alleged. De Abreu and Furtado were killed in a drive-by shooting in July 2012, and Lloyd was killed almost a year later, in June, 2013. Prosecutors say he was targeted because he knew too much about the de Abreu and Furtado killings.
Hernandez is currently serving a life sentence in Lloyd?s murder, but Baez thinks he can work his magic again and get the charge overturned ? provided Hernandez can cough up the cash for a defense. He told the Boston Herald:
?I can just tell you that I think there was doubt in that case. When I looked at it from afar, I thought that was a winnable case.?
That could very well be, although one former prosecutor was quick to note that the acquittal has nothing to do with the Lloyd appeal. Former prosecutor Jennifer Rowan, now a legal analyst for WBZ-TV in Boston, said the problem with the state?s double murder case was its key witness ? convicted drug dealer Alexander Bailey, who was given immunity to testify.
Bailey, on the witness stand, testified that he was in a car with Hernandez when the former Florida Gator and New England Patriots star reached over and pumped five shots into the car that contained de Abreu and Furtado, Roman told WBZ, a CBS affiliate:
The state?s problem was that they relied on Alexander Bradley who was a convicted drug dealer. He got a sweet deal from the prosecution and got immunity to testify. So whenever the prosecution is basing its case on one single person?s testimony which is what they did here and that person has some significant and serious credibility issues, the prosecution is gonna be in trouble.
Hernandez is already being represented by Thompson & Thompson law firm, which is scheduled to handle his appeal in the Lloyd case (there?s no timeline for that, yet). The Herald noted that John M. Thompson is a veteran appellate attorney who has had the state?s highest court overturn murder convictions.
The Herald said Baez is considering joining the case of taking it over, but joining the already heralded Thompson would give Hernandez a juggernaut defense. PFT noted, however, that Hernandez is just about broke, and he?ll have to rely on other avenues (family, friends) to raise money for a defense from such a powerful pair.
He?ll need it. A lengthy examination of the Hernandez case in Sports Illustrated noted that the odds of overturning a murder conviction are low.
If you polled people, though, chances are they felt one lawyer getting Casey Anthony and Aaron Hernandez found innocent were low, too.
KEY MOMENTS IN THE AARON HERNANDEZ TRIAL:
The defense infuriates the judge by injecting racism in to the trial
The jury asks a key question that has observers scrambling
Aaron Hernandez's blockbuster witness didn't show to testify
A one-eyed drug dealer testified against Aaron Hernandez and made a stunning admission