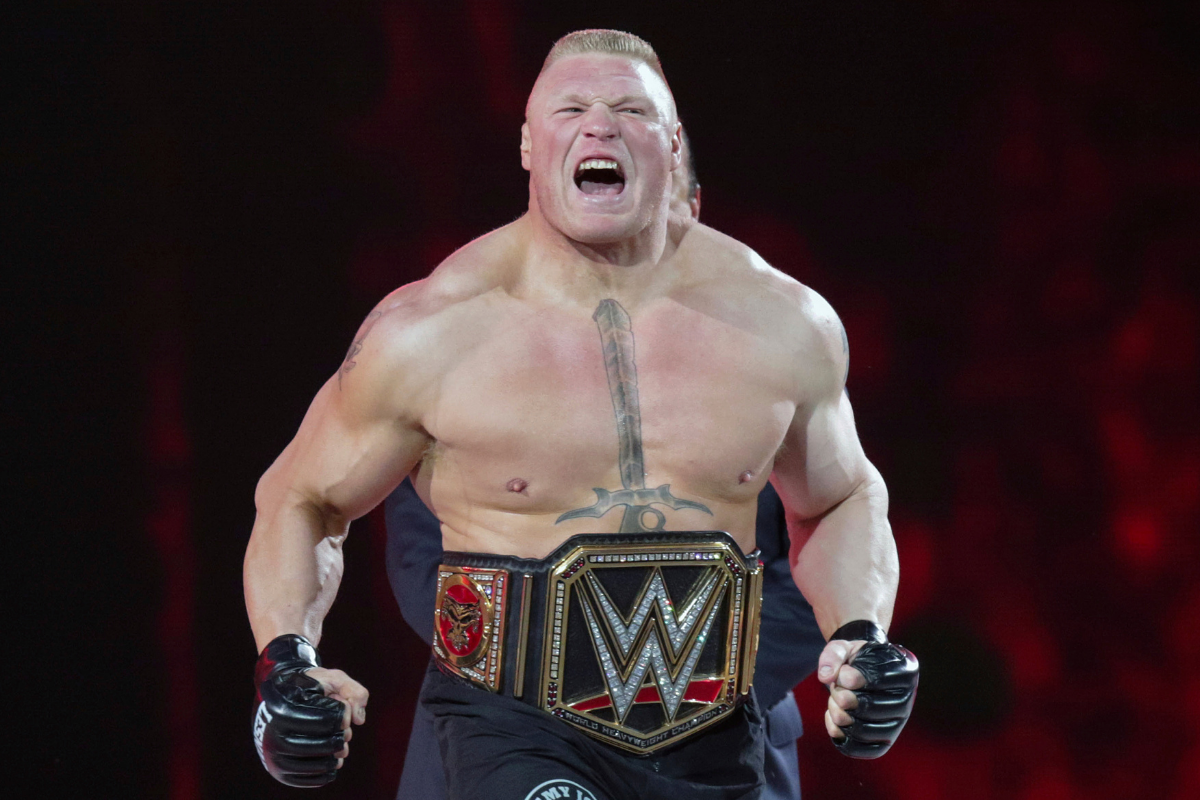 AP Photo/Don Feria, File
Brock Lesnar was constantly the spotlight during his career as a professional wrestler for the WWE, having become an eight-time world WWE champion.
Lesnar's career in pro wrestling and in the Octagon was most renowned for his enormous size and stature paired with his uncanny strength, and it seems as if he's passed some of those traits down the family line.
Early Life and Professional Career
Brock Lesnar was born and raised in South Dakota. He began wrestling in high school before starting his successful amateur wrestling career at Bismark State College and then the University of Minnesota. While in college, Lesnar was the NCAA Division 1 heavyweight wrestling champion.
Lesnar, soon to be known as the Beast Incarnate, joined Vince McMahon's WWE right out of college, and went on to steal the show becoming a WWE superstar with victories over marquee figures of the sport such as Hulk Hogan, The Undertaker, The Rock, Seth Rollins, Roman Reigns, and more at events including WrestleMania, SummerSlam, the Royal Rumble, and WWE SmackDown as well as the Survivor Series.
Lesnar is also a star in the UFC, though he's technically a free agent at the moment. Throughout his MMA career, Lesnar won five fights and lost three. His most recent bout came in 2016 against Mark Hunt.
Personal Life
RELATED: Andre the Giant?s Daughter Never Really Knew Her Legendary Dad
Brock Lesnar is currently married to Rena Marlette Lesnar, better known as Sable from her own prolific career in the WWE. The couple got married in 2006, and have two children together, Turk and Duke.
Lesnar was also previously in a relationship with his ex-girlfriend, Nicole McClain. He had a daughter with McClain, Mya Lynn Lesnar, who is a talented volleyball player and a college shot put star.
Mya Lynn Lesnar
Brock Lesnar's daughter, Mya Lynn Lesnar, is 18 years old and attends Arizona State University where she practices shot put for the Sun Devils track and field team. She was named the Minnesota state champion for shot putting, and is ranked as the sixth-best shot putter in the United States.
Additionally, the shot putter champion has a twin brother named Luke who plays ice hockey. It's clear that Lesnar's athleticism has passed onto his children, who are both remarkably talented athletes in their own respect.