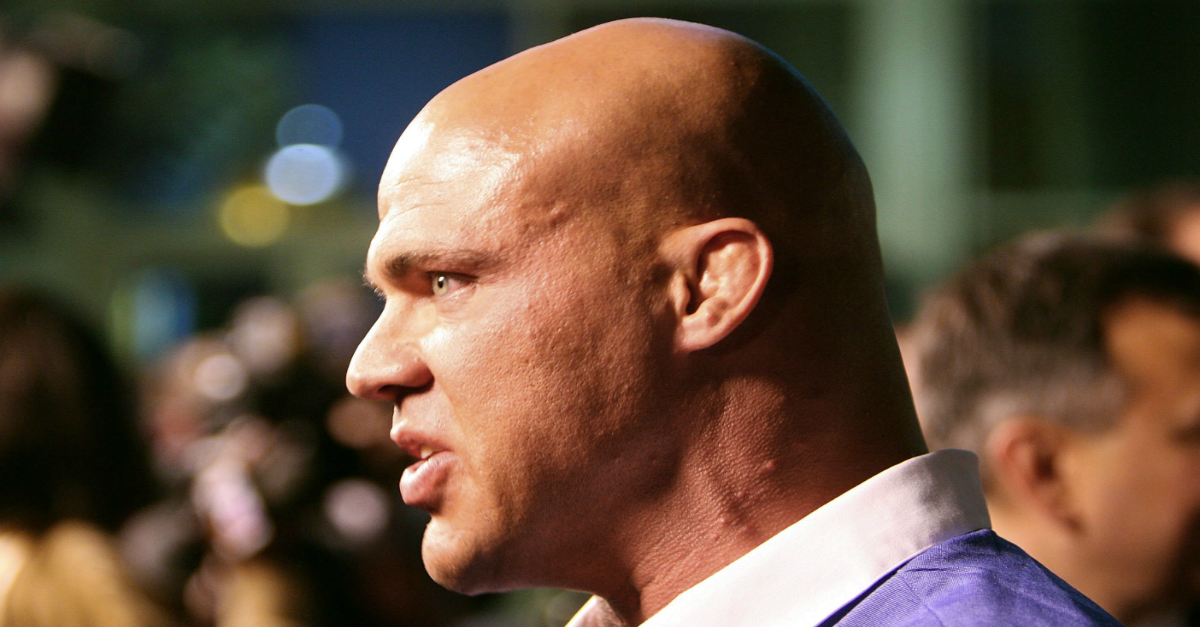 Photo by Michael Buckner/Getty Images
Eric Angle, brother of WWE Hall of Famer Kurt Angle, was arrested on March 16, 2019, for picking up a 12-year-old boy during Saturday's Pennsylvania Junior Wrestling Championships held in Pittsburgh's Petersen Events Center. The video, as shown and reported by CBS Pittsburgh, shows Eric picking up the pre-teen by his neck, swinging him around like rag doll, and dropping him to the floor.
The assault was witnessed by parents and other youth wrestlers, as well as two police officers who were working overtime. In addition to Angle picking up the kid and assaulting him, the video shows Angle, 51, pushed the child with both hands when he returns to his feet. This caused an uproar, with several people screaming and yelling at Angle for his hasty and rash decision to physically assault the child.
When Angle was pulled aside, he admitted that it was a poor decision, stating that he got upset and let his emotions get the best of him. Because of his actions, he was escorted out of the building by police and told not to return for the rest of the tournament. He was then sent to Allegheny County court for a charge of simple assault after the incident.
I attempted to contact Eric via phone for further questioning, but he was not able to be reached. Pittsburgh's WTAE Action News 4 was able to successfully reach Angle following the incident, and he gave them this response.
"I should have just walked away and let him get thrown out," Angle told the station. "Instead I'm the one who embarrassed myself even more."
Eric is the older brother of Kurt Angle, and debuted in the WWE at the 2000 Survivor Series pay-per-view, just a year after Kurt's in-ring debut. At this event, Eric helped Kurt retain the WWE Championship in his match against The Undertaker. He made one more television appearance in 2000, which was the next night on Raw, but was attacked by The Undertaker.
Eric appeared in a similar fashion in 2003, after spending some time in WWE's then-developmental promotion Ohio Valley Wrestling, helping Kurt retain his WWE Championship against Brock Lesnar. He was attacked by Lesnar at the following episode of SmackDown. Eric quit pro wrestling altogether in 2003, after spending only a few matches on the independent circuit.