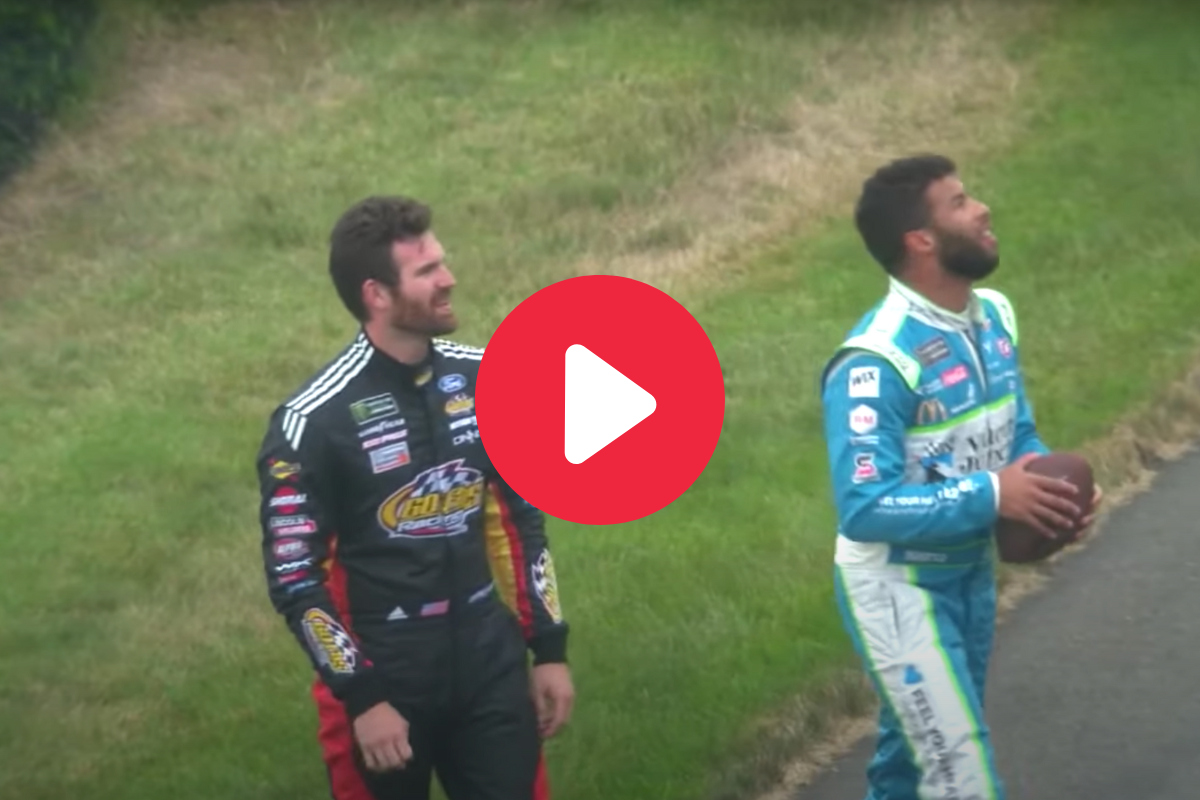 YouTube: NASCAR on FOX
YouTube: NASCAR on FOX
Rain delays in NASCAR are usually pretty boring affairs, but every now and then, drivers will do something to pass the time and end up creating a viral moment in the process. It's called making the best out of bad situation. You know what they say: when life gives you rain, make rain-ade (okay, so that doesn't work quite as well as the whole lemons into lemonade saying). In any case, during a rain delay at the 2019 Consumers Energy 400 at Michigan International Speedway, Bubba Wallace and Corey LaJoie turned a moment of boring downtime into a great opportunity to bond with the fans.
As they waited for the track to dry, Bubba and Ryan Blaney decided to bust out a football and play some catch on pit road. That's when Corey LaJoie got involved, and he and Bubba decided to get the fans involved a little bit.
This stunt definitely gave a new spin to the "catch" in catch fence.
Now, considering the ball was probably wet, Bubba didn't do half bad here. Hey, at least he got it over the fence. That said, it was Corey who really shined during this candid camera moment. The guy can really toss the pigskin. He likely played some ball back in the day. Though, a couple weeks later, the then driver for Go Fas Racing did admit that the game did take a little bit of a physical toll.
"My abs and my arms were pretty sore for the next 48 hours, but it was worth it," LaJoie, who now races for Spire Motorsports, told NASCAR.com.
NASCAR officials eventually postponed the Sunday race until the following Monday. Joey Logano would ultimately see the checkered flag, while LaJoie and Wallace finished 23rd and 28th, respectively. Despite his disappointing day on the track, Corey considered his football moment with Bubba to be the ultimate win.
"Any time I can get out there and mix it up with the fans, they were loving it," LaJoie said. "What was awesome was it just started as a natural thing just throwing the football, then we'd launch it up into the stands and they just loved it."
"That was huge. I was talking with FOX and the video of me and Bubba throwing the football got almost double the views that Joey Logano winning the race did. That solidified my theory that I got more attention throwing the football than I would have if I'd won the race the next day. Whatever it takes, right?"
Related Videos