Just last year, Kevin Harvick's son organized the best Father's Day gift of all time for his NASCAR veteran dad. With a little help from some of the folks at Stewart-Haas Racing HQ, then eight-year-old Keelan got to surprise Kevin with a new look to his No. 4 Ford Mustang: a Grave Digger paint scheme just in time for the NASCAR Cup Series' debut at Nashville Superspeedway.
If you know anything about Monster Jam, you should definitely be familiar with the name Grave Digger, as it's the most prolific monster truck in the history of the motorsports event. Kevin and Keelan are both massive Monster Jam fans, so even though it was technically a surprise for dad, you better believe that Keelan was just as excited (if not more so) about the big reveal. Of course, four-year-old Piper Harvick also had to show up to see what all the fuss was about.
.@KeelanHarvick brought out all the stops with the @MonsterJam crew for Father's Day. WOAH. pic.twitter.com/Td6OAmkWWv

— Stewart-Haas Racing (@StewartHaasRcng) June 16, 2021
"It's THE monster truck," Kevin Harvick said in a Stewart-Haas Racing press release. "Loud noises, big engines, big wheels, big tires, fast race cars, and to have that be a surprise, it's surprising to me because of the fact that it's with Grave Digger and everything, the history, that goes with that truck. But it doesn't surprise me that it's something related to a car and tying it in to what we do."
"This one caught me off guard, though, because I had no idea that any of this was happening and, to have my 8-year-old son be able to pull that off and know more about it than I do makes me feel like I'm a little bit left out. So we're going to have to talk to somebody."
After getting to see his tricked-out stock car as well as the actual Grave Digger Monster Jam truck, Kevin Harvick also got the chance to chop it up with Ryan and Adam Anderson, the sons of former Grave Digger driver and team founder Dennis Anderson. For Harvick, that conversation was an important reminder of the love of Monster Jam being passed down from father to son.
"[Keelan and I] have been to Monster Jam," Harvick added. "We went to Charlotte. We went to Atlanta several years ago. W''ve been to a few of them. For Keelan and I, racing is a legacy, you pass it on from one generation to the next. And the same thing has happened with Grave Digger and the drivers of that truck."
"What we do, you see generations of families that have had their fathers, their sons and their sons move on through the ranks of racing. It's something that you grow up around and are a part of and you learn to love the sport. And when you're around it, you understand it's a family sport and, for me, that's the best part of it — that it's something we can do together."
If you're a Monster Jam or NASCAR fan and you thought that Harvick's Grave Digger car was a badass tribute, then you can actually own one for yourself. Well, sort of.
For just under $100, you can buy a 1:24 scale NASCAR diecast car from Lionel Racing that rocks the same iconic scheme that Harvick did at Nashville over a year ago. Named Lionel Racing's top-selling diecast for 2021, the car comes equipped with an opening hood, trunk, and roof, But, obviously, the main draw is the incredibly-replicated paint scheme. A must-have for any collector.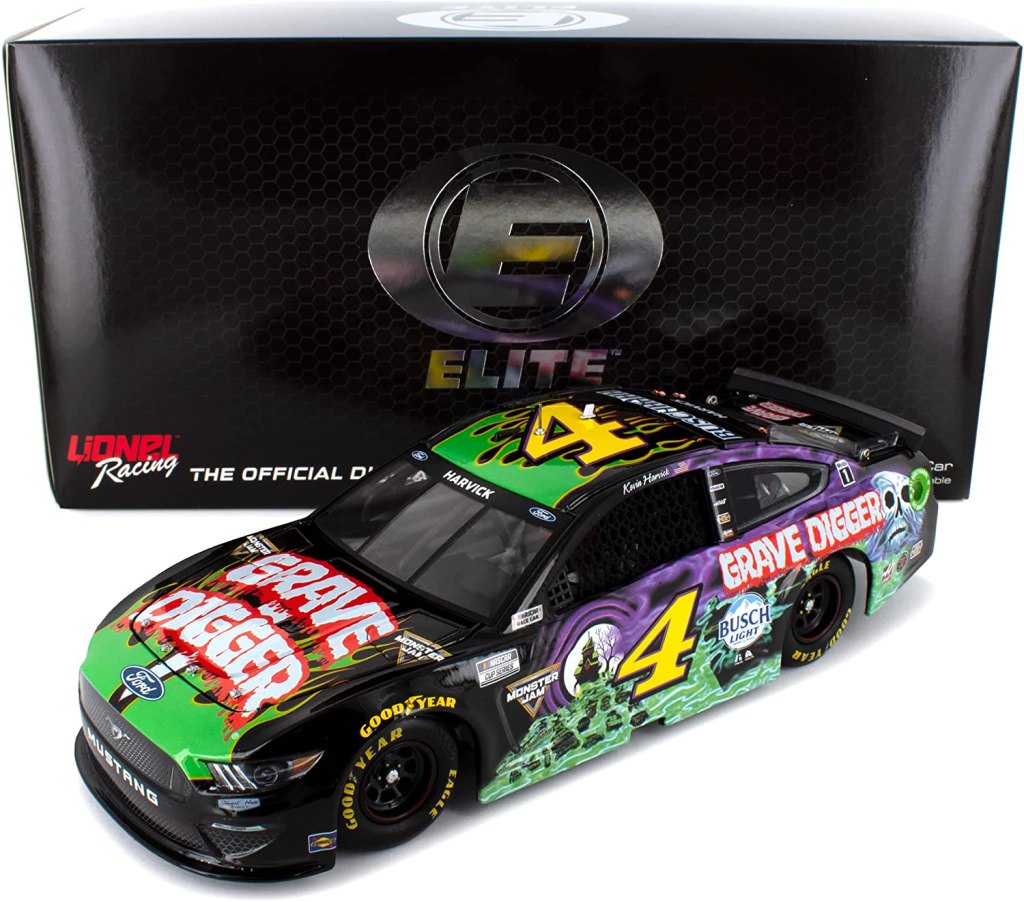 Products featured on FanBuzz are independently selected by our editors. However, when you buy something through our links, we may earn a commission.
Want More Sports News?
Get the biggest and best sports news sent directly to your inbox.