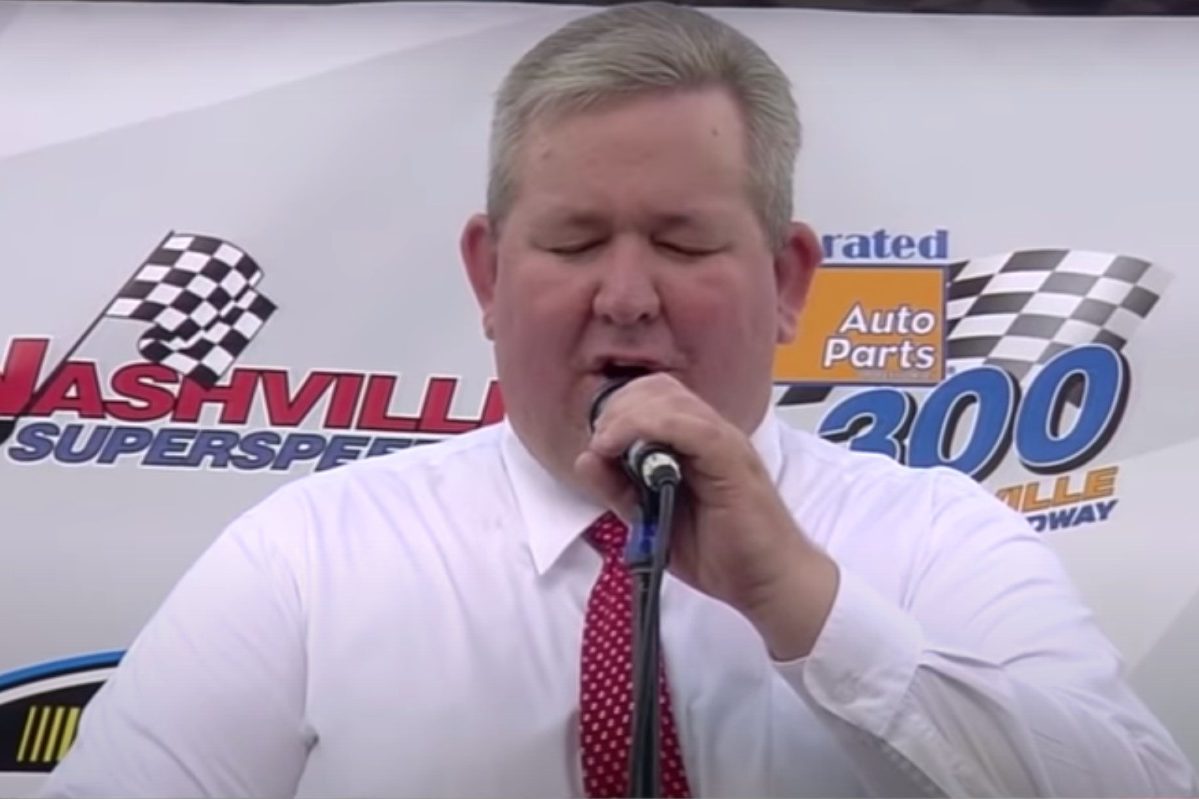 YouTube Screenshot
YouTube Screenshor
This has got to be one of the greatest prayers ever done at a NASCAR race. Back in 2011, during the NASCAR Nationwide Series race in Nashville, Tennessee, Pastor Joe Nelms went viral on social media after this hilarious motorsports moment, and it's easy to see why.
You can check it out in all its glory in the video below. Why can't they do every race prayer like this?
The prayer was strikingly similar to the one that Ricky Bobby did in Talladega Nights, but that was kind of the whole point. It's pretty funny to watch how the different NASCAR drivers standing around Nashville Superspeedway reacted once the pastor gets going. I honestly don't think anyone was expecting something like this.
Interestingly enough, pre-race NASCAR prayers were actually a trend before this moment, but they were very seldom filmed on camera. Eventually, they stopped doing it, but Pastor Joe's prayer was one that was actually captured on video. In his prayer, he gives thanks to the different sponsors, a variety of car manufacturers, Goodyear, the racetrack, and he even had a tribute to Darrell Waltrip.
However, perhaps the funniest moment was when he brought his own family into it. Just below, you'll find two quotes from the prayer that are guaranteed to make you chuckle.
"Lord I want to thank you for my smokin' hot wife tonight, Lisa, my two children, Eli and Emma, or as we like to call them, the Little E's."

"In Jesus?'name. Boogity, boogity, boogity. Amen."
Just look at the crowd after he says the comments about his wife, and watch as they burst with laughter. It started off rather normal, but once he started going on about Dodges and Toyotas, I knew this was going to turn into something good. He had the perfect voice for it, and it was executed beautifully. I have to give my respect out to Pastor Joe Nelms. It was an amazing opener for the National Anthem that followed.
As it turns out, Nelms originally brainstormed this to try and break the mold of the usual prayer before races. He agreed with the contents within the traditional one, but claimed that it got kind of stale after being repeated week after week. He wanted to ensure that people would actually listen, and I'd say he accomplished his goal.
Man, do I wish they would bring this back, but something tells me the NASCAR higher-ups might not be too happy. You know, seeing as they're probably trying to move away from the stereotypical image of the sport.
Related Videos