NASCAR legend Dale Earnhardt pretty much put Chevrolet on the map as a dominant stock car manufacturer throughout the '80s and '90s. His son, Dale Earnhardt Jr., followed in his dad's footsteps on the Chevy front, and along the way earned two Xfinity Series championships, 26 Cup Series victories, 15 Most Popular Driver awards, and a spot in the NASCAR Hall of Fame.
Given the Earnhardts' family connection to Chevrolet, it should probably come as no surprise that Junior drives Chevys pretty much on a daily basis.
As an NBC Sports analyst, business owner, podcast host, and the team owner of JR Motorsports, Earnhardt keeps extremely busy. Even still, he's found the time to accumulate an incredible car collection. Many of those rides are Chevys of various model years and in different conditions.
Dale Jr. clearly loves the classic muscle cars, which I can respect. Another thing I love about this guy is that he has the mentality that the cars were made to be driven. The North Carolina native doesn't let these rides sit around as show pieces. He gets his use out of each one.
Just to name a few, Dale's had Chevrolet Impalas, Camaros, Monte Carlos, and a Chevy Nomad decked out by Gas Monkey Garage before it got sent to the auction block. But, here, we're going to be diving into just five of the coolest Chevys from his collection. He even has a street-legal race car!
5 Coolest Chevys in Dale Earnhardt Jr.'s Car Collection
1967 Chevrolet Camaro
Dale Jr. owns a super clean '67 Chevy Camaro that he says probably takes the top spot as the favorite in his collection. He came across the beautiful classic car at Charlotte Motor Speedway. The Camaro was owned by a mechanic for one of the racing teams, and Dale loved the car so much he that ended up putting an offer on it and has had it ever since.
After a few years of owning the car, Dale wanted to get it upgraded, so he took it over to Detroit Speed & Engineering. They turned this thing into an absolute masterpiece, refurbishing everything but the exterior paint. Some of the upgrades include DSE's hydroformed subframe, 4-link rear suspension, custom dash treatments, and a re-installed and cleaned up small-block Chevy engine.
This ain't your grandpa's '67 Camaro, that's for sure.
1948 Chevrolet TK Pickup
This pickup, nicknamed the "grunge truck," is pretty much the exact definition of a sleeper. If you're unfamiliar with the term, it's essentially a vehicle that looks slow, beat down, and tired from the outside, but has the mechanical components underneath to hang with the best of them. That's exactly what this truck is.
It looks like a rust bucket on the outside, but Junior's got this thing decked-out from head to toe with aftermarket parts to make it run like a brand new race truck. Imagine the looks he gets from people while driving this thing after he puts his foot to the floor. I can easily see why he had to have something like this. It's more about the fun per gallon. Not only does it have the power, but it still looks fantastic, even though it has a rusted-out body. That unique body style will just never really get old to look at.
In February 2022, Junior shared an update of the restoration process on the Chevy truck. Check it out, because this thing looks like a real beaut.
24 Hours of Daytona Chevrolet Corvette C5-R
In 2001, both Dale Earnhardt Sr. and Dale Jr. actually both drove this Corvette in the Rolex 24 Hours of Daytona race. After finishing the race, Corvette offered to modify the race car to be street legal. What's even cooler is that Corvette went on to win Le Mans that year.
After the revisions were complete, Dale Jr. now had an awesome race car that could be driven on the street. This car also serves as a beautiful father-son memory that was made only two weeks before Senior tragically died during the Daytona 500.
"It means more to me now than I ever thought it," Junior said about the car. "When we decided to have these cars made, I didn't know Dad was going to be taken from us just a short time later. It took a while for these cars to get built. The wing on my car came from the second place-finishing Corvette at Le Mans that year. The wing on Dad's car came from the winning car."
Wow. It doesn't really get much more special than that.
1988 Chevrolet S-10
The Chevy S-10 was actually Dale Jr's first car. It was also the first car he seriously wrecked.
"I flipped my S-10 pickup truck driving to my mammaw's for the family reunion on Christmas Day one time," Earnhardt said. "I was probably about 18 or 19 years old back then. I was working at the dealership as a service mechanic. I wasn't paying attention, drove off the road, hit a driveway culvert and flipped end over end, and rolled a couple times."
Years and years later, Dale tried tracking the pickup down. No dice, but longtime NASCAR consultant Ray Evernham gifted Junior a replica of the truck.
In this interview with Joe Rogan, you can hear Dale wax poetic about the S-10. He really does love that truck.
Holden Commodore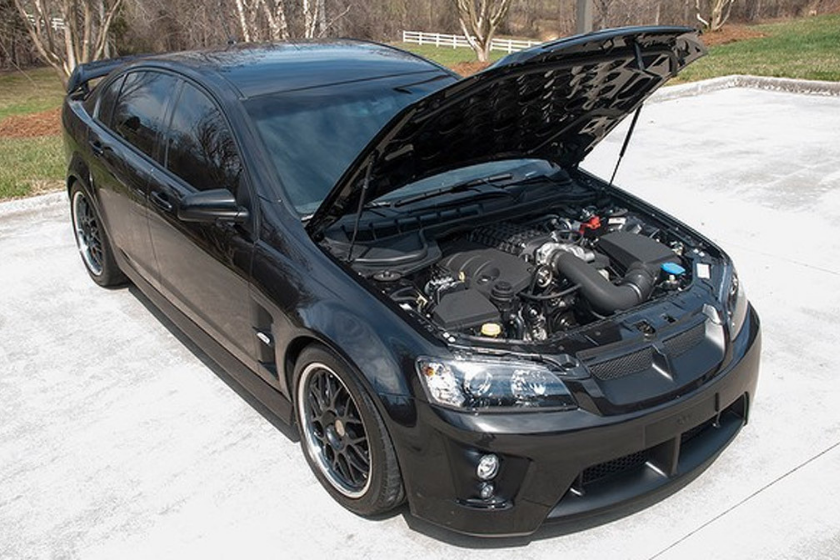 Ok, so this technically isn't a Chevy in the purest sense, but we'd be remiss if we didn't mention this bad boy, which is up there among Dale's favorites.
Several years back, Dale Jr. was in Australia when he was checking out what Holden, a Chevy subsidiary, had to offer. Now, Holden only produces cars with right-hand-drive steering wheels, which obviously wouldn't work for Dale as a daily driver. Instead, he bought a Pontiac G8 and sent it to be redone with a Holden shell.
Rick Hendrick, owner of Hendrick Motorsports, helped out with the conversion. Probably the coolest part about this Commodore is the 6.2L supercharged engine. If there's one thing an Earnhardt loves, it's a car with a little bit of extra oomph under the hood.
This post was originally published on April 10, 2020.
Want More Sports News?
Get the biggest and best sports news sent directly to your inbox.