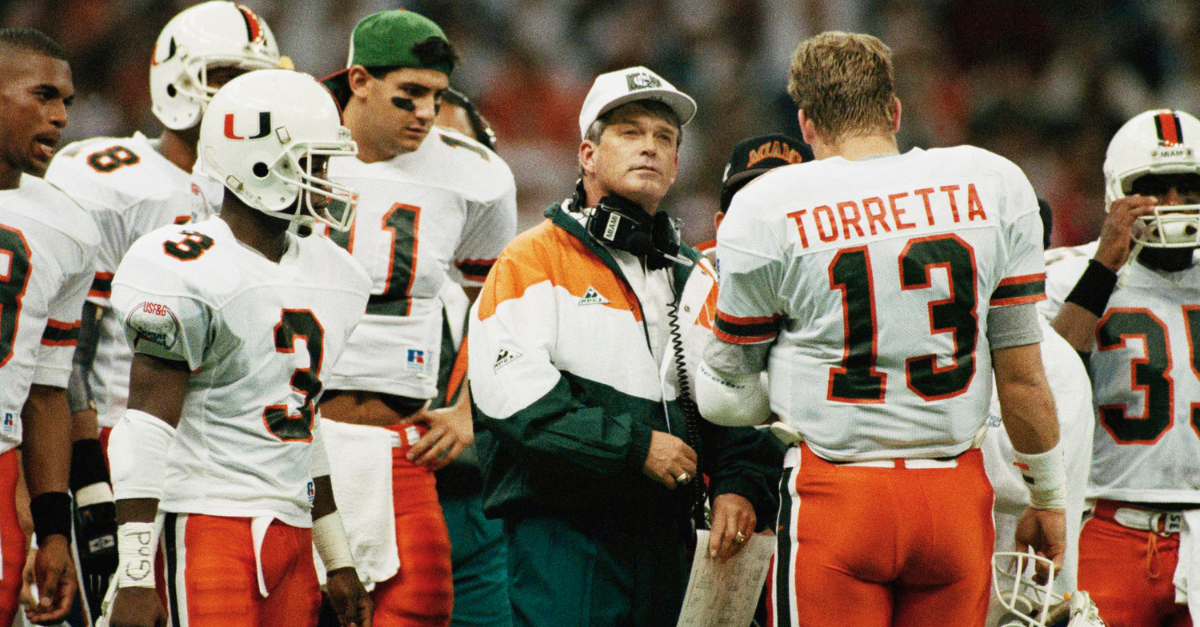 AP Photo/Bill Haber
AP Photo/Bill Haber
Even though the NFL season has ended, there is something new that football fans now have to look forward to: the Alliance of American Football. While former NFL and college football talent looking for another shot at professional football, there are several former Miami Hurricanes standouts playing in the AAF.
As of now, there are currently three former Canes listed on the rosters of the eight teams in the league. There are a few other familiar faces Miami fans will recognize as well, but this gives you an idea of what players are on which teams when the inaugural season underway.
Right now, the AAF may not be as stocked with as many Hurricanes as the NFL is, but I'm sure it will get there. With three players to start the season and two former coaches, it isn't a bad start for only eight teams.
Maybe one of the more underrated, and definitely under-utilized, players from the last few years is Tyriq McCord. He is listed as a linebacker for the Atlanta Legends, who played their first game against the Orlando Apollos on Sunday.
RELATED: 7 Former 'Noles are Back in Action with the AAF's Orlando Apollos
McCord was an edge-rusher for Miami from 2012 to 2015. In his four seasons, he had 110 total tackles, 21.5 for a loss, 14 sacks, five forced fumbles, three fumble recoveries, and three interceptions. He is the type of player who would have benefited from playing under Manny Diaz instead of the Al Golden staff.
In that same game, but on the other team, were Anthony Moten Jr. and LaDarius Gunter. They are both playing for the Orlando Apollos and are coached by legendary Florida head coach Steve Spurrier.
Moten Jr. was a defensive tackle for the Hurricanes from 2014 up until 2017. He didn't put up tons of numbers because he was usually part of a good defensive tackle rotation like during his senior season with Kendrick Norton and R.J. McIntosh. But he was important to the defense and could possibly show NFL teams what he can do while playing for the Apollos.
In four seasons, Moten recorded 38 total tackles with 3.5 for a loss and 1.5 sacks. He spent some time with the Miami Dolphins after going undrafted.
Gunter, who has had the most success in the NFL, will be playing cornerback for the Apollos. He played at Miami from 2012 through 2014 after starting his college career at a junior college. He was a solid corner and stood out for his size at 6-2.
In three seasons, he played in 37 games and started 30 of them. He finished his college career with 111 total tackles with three of those for a loss. He had six career interceptions and 18 pass breakups. He went undrafted and was eventually picked up by the Green Bay Packers where he played 23 games, starting 15 over his first two seasons. During the 2016 season when he started 15 games, he had 12 passes defended and forced two fumbles while finished with 54 tackles. He played in four games for the Carolina Panthers in 2017.
Another familiar face for Canes fans is Dennis Erickson, former head coach of Miami. Erickson will be the head coach of the Salt Lake Stallions and also has Lamar Thomas, a former Hurricanes wide receiver coaching the same position. Thomas played at Miami during Erickson's stint as head coach from 1989-94 when they won two national championships.
A player who did play for the Hurricanes but didn't finish his career there was Malcolm Bunche. He played at Miami for three seasons before becoming a grad-transfer at UCLA. He will be playing offensive tackle for the Arizona Hotshots.