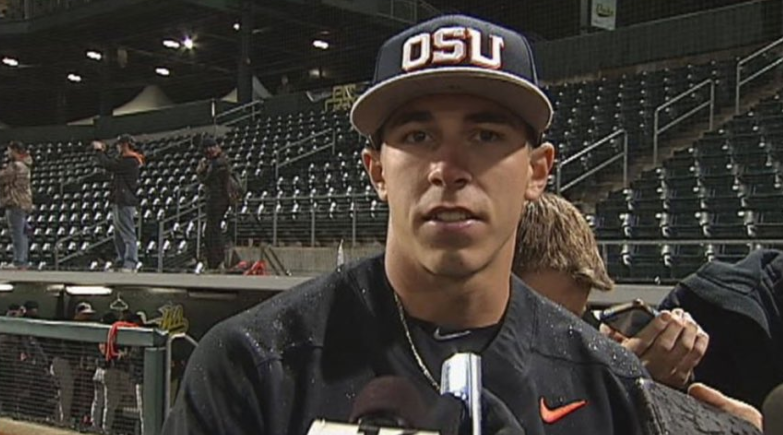 KVAL-TV Twitter
Luke Heimlich — arguably the best college pitcher in the nation this past season — has taken himself off the Oregon State baseball team following a tumultuous week during which he was outed as a sex offender and went undrafted in the Major League Baseball draft.
Heimlich, a 21-year-old junior lefthander, will not travel with the team to Omaha as it tries to win the  College Baseball World Series. Heimlich released a statement to ESPN through a family friend, that said the recent events have opened a deep wound that has caused much pain for his family.
"For the past six years, I have done everything in my power to demonstrate that I am someone my family and my community can be proud of and show the one person who has suffered the most that I am committed to living a life of integrity."
"This situation has caused great pain to my family members over the years and I am devastated that they have to relive it all again so publicly. Today the Oregon State University baseball team is heading to Omaha for the College World Series — something my teammates, my coaches and I have worked for all year and dreamed about for a lifetime. I'm sad to say I am not joining them because doing so would only create further distraction for my teammates, more turmoil for my family and given the high profile of the national championship, direct even more unwanted attention to an innocent young girl.
"I want to wish my teammates the best. I hope they understand this decision as my family and I continue to work through this together. My hope is to return to OSU next year as a student-athlete and continue to earn the trust of my community."
RELATED: One of the nation's best college pitchers goes unclaimed in the MLB draft
Oregon State President Ed Ray then released his own statement, in which he said he would support Heimlich returning as a senior:
I concur with this decision as to do otherwise would certainly serve as a disruption and distraction to the team due to the significant public scrutiny that this matter has attracted. As well, I am mindful of the need for providing safety for all concerned that otherwise might be at risk during times of heightened emotions. If Luke wishes to do so, I support him continuing his education at Oregon State and rejoining the baseball team next season.
Heimlich was, arguably, the nation's top college pitcher. He finished the season 11-1 with a 0.76 ERA with 128 strikeouts in 118 innings and a WHIP — walks plus hits per innings pitched — below one, at 0.98. Baseball America ranked  the 6-foot lefthander as the 31st best prospect in the upcoming three-day MLB draft, meaning he could have been a first-round selection that would have commanded a million-dollar-plus signing bonus. But, after 40 rounds, all teams passed on the talented southpaw.
The Oregonian discovered Heimlich's past while writing a profile on the  a 21-year-old southpaw. The newspaper discovered Heimlich is a  sex offender who, at the age of 15, was convicted of inappropriately touching a girl who was between the ages of four and six, according to a report in the Oregonian. The incident happened when Heimlich lived in Washington state, and the newspaper had the disturbing details:
 The girl told investigators that inside Heimlich's bedroom, he pulled down her underwear and "touched her on both the inside and outside of the spot she uses to go to the bathroom," according to court records. "She said that she told him to stop, but he wouldn't," the documents state, and that "it hurt" when he touched her.
Heimlich pleaded guilty to one count of  molestation, a class A felony in Washington, and as part of his conviction, he had to register as a sex offender. While most states keep juvenile court records private, Washington allows some to be made public, but that's not what brought this case into public view. It seems that Heimlich let his sex offender registration in Oregon lapse, and he was caught up in a sweep of the Benton County (OR.) Sheriff's Department hunting down sex offenders. That record made its way into the Oregon court system, and that's when the Oregonian made its discovery.
Heimlich was supposed to pitch in the college world series, but asked to be removed from the team. Head coach Pat Casey
told the Associated Press
he didn't know whether Heimlich would pitch in the series.