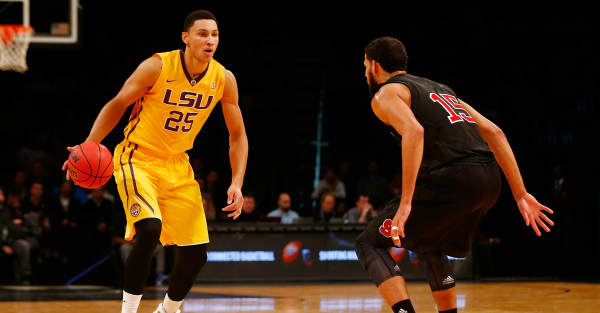 The NBA Draft might not be until June, but LSU's Ben Simmons already knows he's going pro. The 6-foot-10 Australian led the Tigers in scoring (19.2 points), rebounds (11.8) and assists (4.8) this season. "I'm making it official," Simmons said Sunday night.
LSU finished the season 19-14 and failed to make the NCAA Tournament. The school also decided not to participate in any of the other postseason tournaments so we didn't get to see Simmons play any more games after the disappointing rout from Texas A&M the Tigers suffered in the SEC Tournament.
Simmons is likely to be the No. 1 pick in the NBA Draft and only has serious competition from fellow freshman Brandon Ingram out of Duke. There's really only one team that wouldn't take Simmons first and that's Philadelphia after they've stockpiled big men the past few years in the draft. And even in that case the 76'ers might be stupid enough to still take him because of his talent.