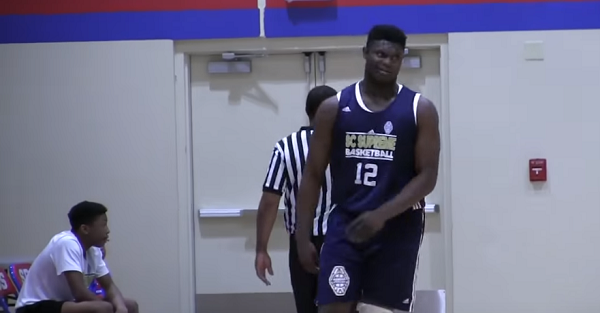 EliteMixTapes/YouTubes
EliteMixTapes/YouTube
Five-star forward Zion Williamson has been expected to take his high-flying dunks to Kentucky, but another blue blood could threaten the Wildcats.
The 247Sports Crystal Ball still projects Williamson to pick Kentucky, but Kansas is now heavily in the mix. Kentucky is at 42 percent, and Kansas currently sits at 25 percent.
Related: Five-star wing man Zion Williamson wants to pair up with one top tier point guard
Recruiting insider Andrew Slater said he changed his prediction on 247Sports to Kansas based on Williamson's connection to Jayhawks coach Bill Self.
"I think first of all, Bill Self has done a great job recruiting Zion and making that connection," Slater said. ?And obviously he has a strong friendship with Devon Dotson, who is himself strongly considering Kansas and may decide soon."
Williamson is the No. 1 player in the Class of 2018 according to 247Sports, and Kansas has landed the No. 1 overall player twice since 2013 in Andrew Wiggins and Josh Jackson. Of course, John Calipari is the best recruiter in college basketball, so there's a reason the Wildcats are at the top of the list for Williamson.
The 6'7, 230-pound Williamson is from Spartanburg, South Carolina. Along with Kentucky and Kansas, Duke, North Carolina and Clemson are also in the mix.
(h/t 247Sports)