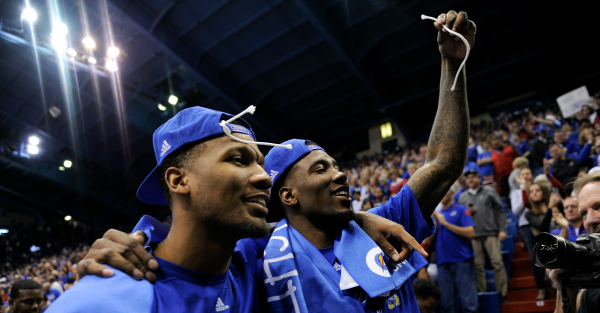 The Kansas Jayhawks have clinched yet another Big 12 regular season title — their 12th straight — and another top spot in this week's AP Poll. KU was there earlier in the year, but this year has seen an unprecedented amount of losing among the AP Top 10 teams.
https://twitter.com/ESPNCBB/status/704339631156887552/photo/1
And there's still another week of the season left to play so that number could still be on the rise. Michigan State, Villanova, Virginia and Xavier round out the top five. The Spartans have made another classic push for March under coach Tom Izzo and should be dangerous come tournament time.
Utah and Indiana were huge winners in the poll moving up nine and six spots, respectively. Utah got wins over Arizona State and Arizona to move up and Indiana won at Illinois and the Hoosiers were mostly the beneficiary of others losing ahead of them.
Kentucky took a tumble down six spots after a bad loss to Vanderbilt while Arizona had the biggest drop at nine spots down to No. 18 after losses at Utah and Colorado. The rest of the AP Poll can be found below: