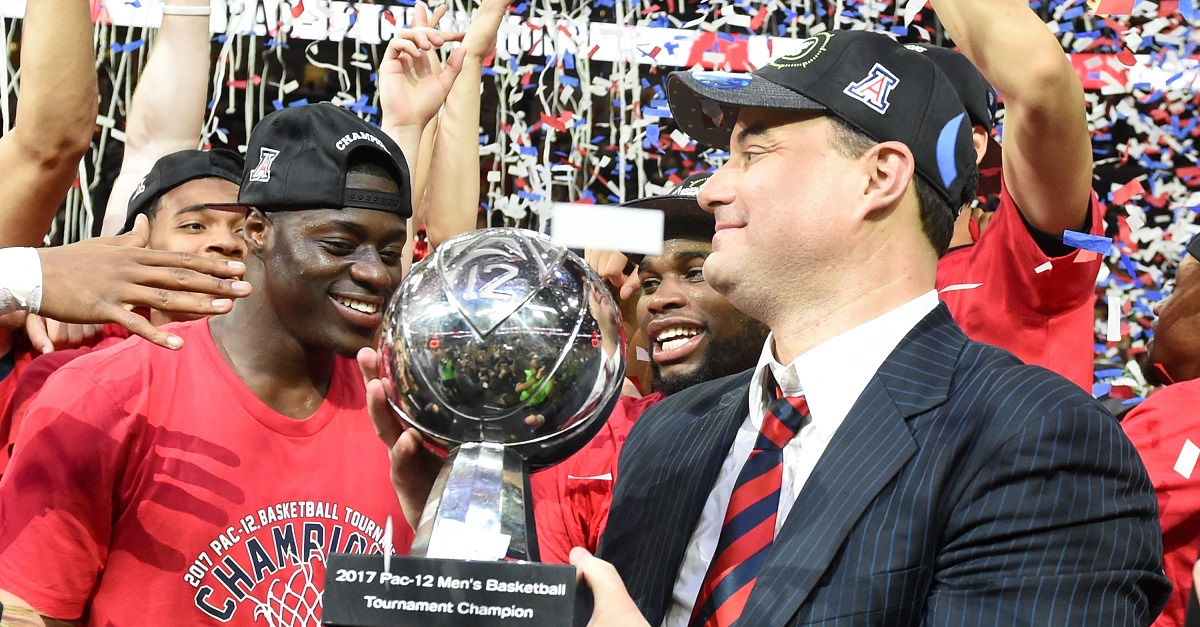 Ethan Miller/Getty Images
LAS VEGAS, NV - MARCH 11: Rawle Alkins #1 and head coach Sean Miller of the Arizona Wildcats celebrate with the trophy after defeating the Oregon Ducks 83-80 to win the championship game of the Pac-12 Basketball Tournament at T-Mobile Arena on March 11, 2017 in Las Vegas, Nevada. (Photo by Ethan Miller/Getty Images)
It's always fun to get series started with teams that Power 5 schools normally wouldn't even consider rivals. Something like a Pac 12 team playing a Big Ten team or even a Villanova playing a Duke or North Carolina on a regular basis. It looks like we might be getting a pretty sweet rivalry series that involves some major bluebloods and a real sibling rivalry.
RELATED: Archie Miller wants Kentucky rivalry renewed
Jon Rothstein of Fan Rag is reporting that Indiana and Arizona are trying to set up a three-year series that will run from 2019 to 2022. This would pit Sean Miller against little brother Archie, which would add yet another dynamic to an already promising series. The proposal is to have Arizona host the first game with Indiana getting the next and then a mutual site of Madison Square Garden to host in the last year.
Indiana is going to need a year or two to rebuild under Archie while the Wildcats have been title contenders for some time under Sean who has been in Tucson since 2009.