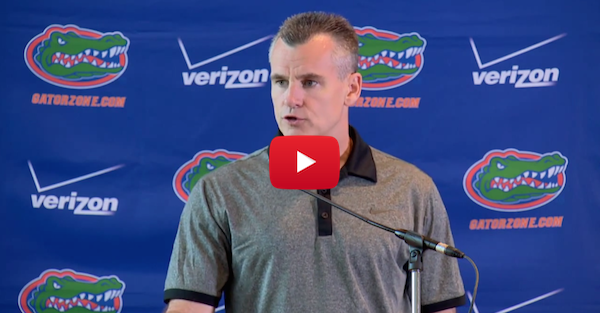 Former Florida head coach and now Oklahoma City Thunder head coach Billy Donovan took to the podium for the last time in Gainesville on Monday. He talked about all the memories he's made with athletic director Jeremy Foley and the all the people he's had the privilege to meet and coach during his 19 years at Florida. There were some tears shed, mostly by fans and happy SEC coaches, but his time at Florida will always be memorable. Foley even choked up a bit at the press conference introducing Donovan for the last time:
Foley started off by saying how it got started last week and that Donovan was very comfortable with the decision to go to the pros.
WIth Foley being the guy that brought in Donovan in the first place, there were some serious feelings and a relationship that's been going strong for 19 years and as Foley said, won't ever stop.
With a coach leaving, there is of course talk about the new guy who could be coming in and Donovan will have a little say in what happens with him.
And Foley has been doing some research to find that replacement.
I won't ruin Donovan's speech for you so watch it and get a box of tissues ready too because the water works are about to turn on.