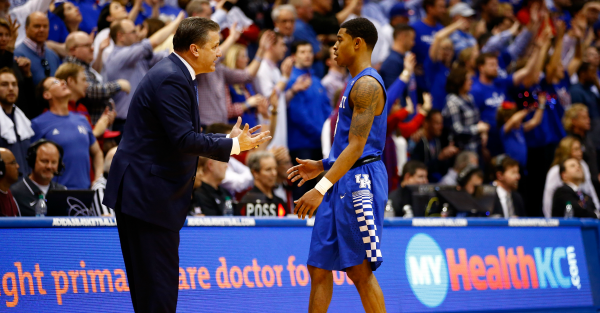 When Tyler Ulis stepped on Kentucky's campus last season there were a bunch of people who thought he would be a rare four year guy under John Calipari. And not because he was a bad player, but because he was only a 5'9″ point guard who wouldn't be big enough to play pro ball or frankly good enough. He's proven everyone wrong with some pretty great stats this year: 16.6 points per game, 7.4 assists per game, 3.3 rebounds and 1.4 steals per game.
Cal did not take kindly to the media calling one of his guys a "four year player" with a negative connotation. He fired back and let the media have it with some information most people were not privy to about Ulis' future.
I definitely want to see Ulis get a shot at the NBA because he's proven he can run a Calipari offense and can handle the pressure of playing for the demanding coach. He's also boarded the ball very well considering his size and has made his size an advantage on offense. Ulis isn't currently projected to go in the first round as of now, but could definitely play his way in there with a good postseason and showing at the combine.