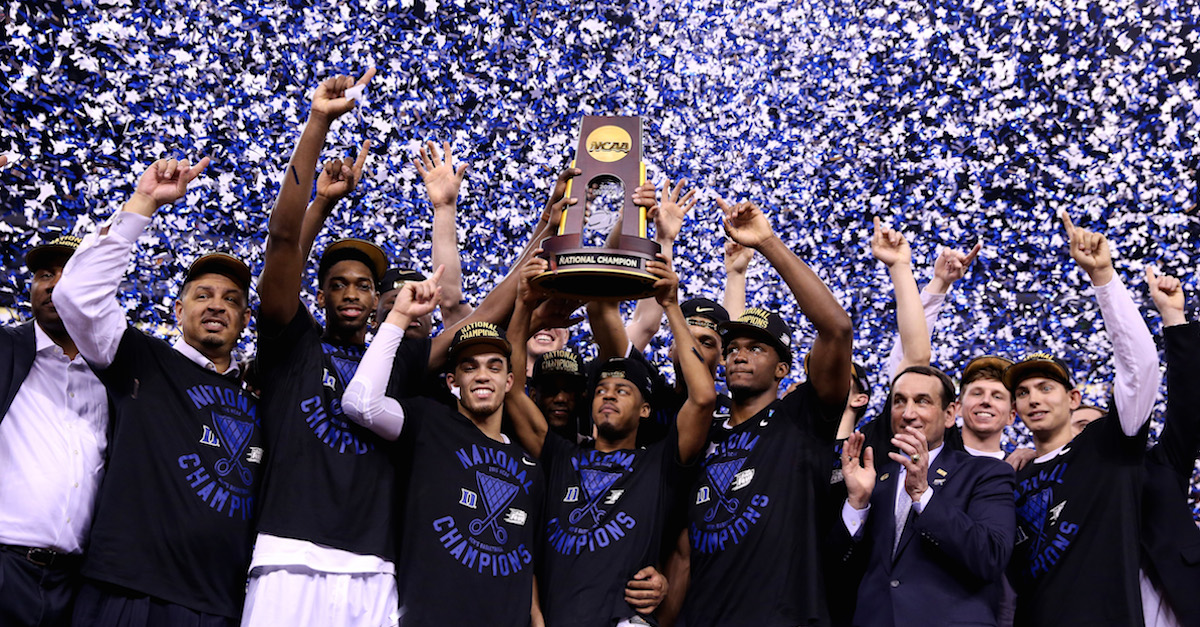 INDIANAPOLIS, IN - APRIL 06: The Duke Blue Devils celebrate with the championship trophy after defeating the Wisconsin Badgers during the NCAA Men's Final Four National Championship at Lucas Oil Stadium on April 6, 2015 in Indianapolis, Indiana. Duke defeated Wisconsin 68-63. (Photo by Streeter Lecka/Getty Images)
It's no secret that when it comes to colleges across the country, usually a school is either a football or basketball school. However there are those out there who managed to find proficient and consistent success on both the gridiron and hardwood. CBS Sports recently ranked the best football and basketball schools in the country, using a specific criteria. Some of that criteria included aspects such as overall and postseason winning percentage, conference and national titles, and Final Four/College Football Playoff of National Title appearances, among a few others.
Below is what was the result. It's no surprise that Florida checked in at No. 1 — the Urban Meyer and Billy Donovan years, including the back-to-back titles for Donovan in 2006 and 2007, and Florida football's titles in 2006 and 2008 — made Gainesville the country's new true Title Town.
The top 10, courtesy of CBS:
1.  Florida
2. Ohio State
3. Wisconsin
4. Oklahoma
5. Louisville
6. Michigan State
7. Texas
8. Alabama
9. Oregon
10. Notre Dame