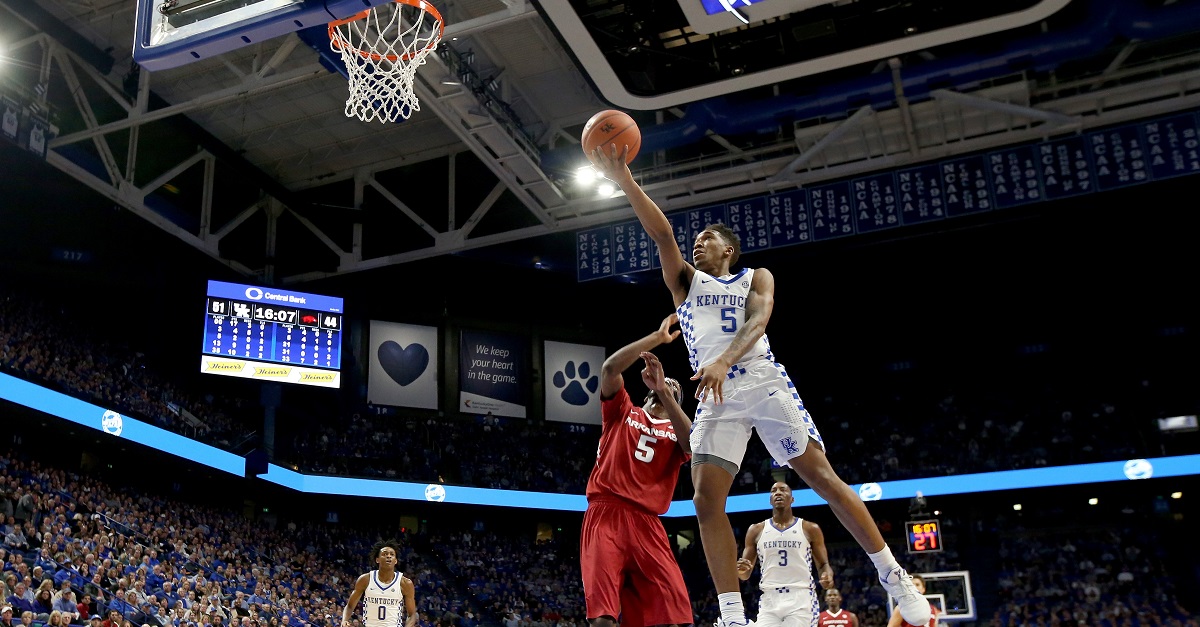 Andy Lyons/Getty Images
LEXINGTON, KY - JANUARY 07: Malik Monk #5 of the Kentucky Wildcats shoots the ball during the game against the Arkansas Razorbacks at Rupp Arena on January 7, 2017 in Lexington, Kentucky. (Photo by Andy Lyons/Getty Images)
Kentucky has been killing almost every team it has faced this year with only two blemishes coming to top 25 teams in UCLA and rival Louisville. They also have wins over UNC and Arizona State as far as Power 5 schools go outside of the conference.
RELATED: Isaiah Briscoe makes history with performance against Ole Miss
CBS Sports' Gary Parrish thinks that the Wildcats will take their 30.3 winning margin in SEC play all the way to a No. 1 seed in the NCAA with only one more loss on the record.
"Nobody in the SEC, with the possible exception of Florida, is in the same ballpark as Kentucky. And even if Florida is legit, UK will win the SEC by multiple games.

"My prediction: UK goes 17-1 in the SEC, wins the SEC Tournament and has a 31-3 record on Selection Sunday. That'll deliver a No. 1 seed in the NCAA Tournament. And then Calipari's second national title will be within reach."
Parrish might have forgotten that Kentucky also plays Kansas later this month and that would be another game the Wildcats could very well lose. Even with that loss, UK would likely still end up with a top seed in the NCAA Tournament.
[h/t CBS Sports]