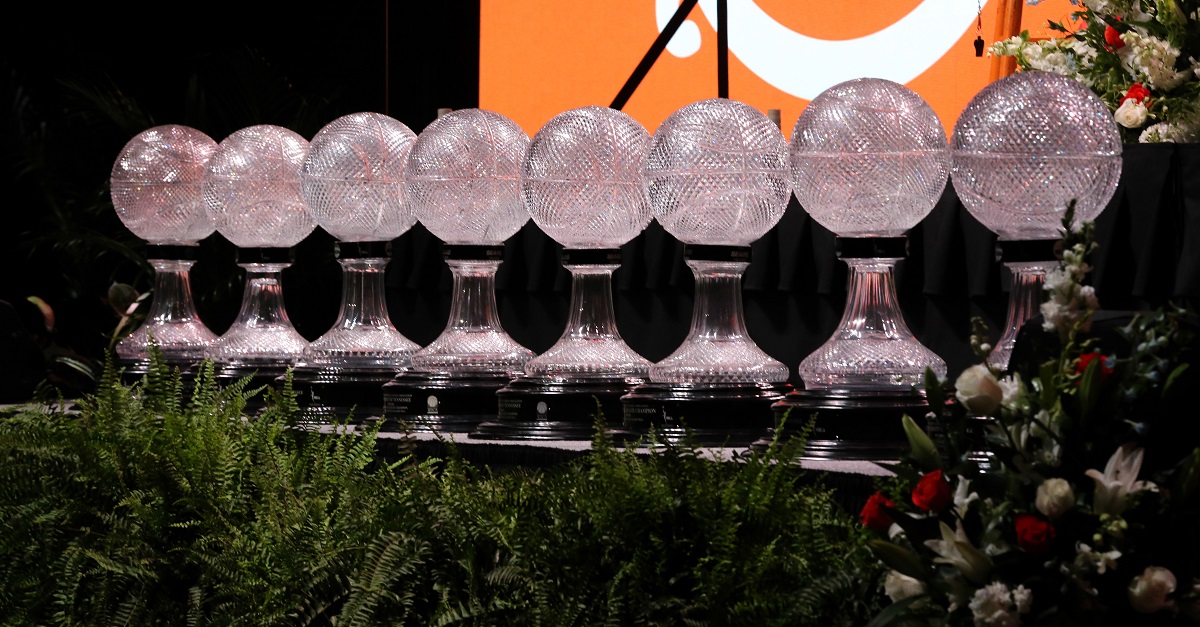 Getty Images
KNOXVILLE, TN - JULY 14: The Lady Vols' eight basketball national championship trophies on stage at the Pat Summitt Celebration of Life at Thompson-Boling Arena on July 14, 2016 in Knoxville, Tennessee. Summitt died June 28 at the age of 64, five years after being diagnosed with Alzheimer's disease. (Photo by Craig Bisacre/Tennessee Athletics - Pool/Getty Images)
There's a ton of talent coming into the college basketball landscape this season with some superstar freshmen expected to compete for awards and make their teams competitive in the postseason. However, it's a junior who won CBS Sports' Player of the Year award.
RELATED: Even at the Final Four Grayson Allen can't escape the trolling
Duke's Grayson Allen is the man CBS Sports has pegged as its player of the year and his stats last year will certainly lend some credence to the choice. He averaged 21.6 points, 4.6 rebounds, 3.5 assists and 1.3 steals in 36.6 minutes per game last season while shooting 46.6 percent from the field and 41.7 percent from 3-point range.
RELATED: Did Grayson Allen intentionally trip a Louisville player?
He will team up with some super freshmen this season in Harry Giles, Jayson Tatum, Marques Bolden and Javin DeLaurier. He'll also have senior Amile Jefferson, sophomore Luke Kennard and senior Matt Jones helping him out this season as the team lacked serious depth last season.
Hopefully this year Allen will be making headlines for his great play rather than dirty tactics like he did last year after he tripped a player on a couple different occasions. While he likely won't even be the best NBA prospect on his own team, he could turn out to be the best college player this season and help lead the Blue Devils back to a National Championship that he was so crucial to in 2015.
[h/t CBS Sports]