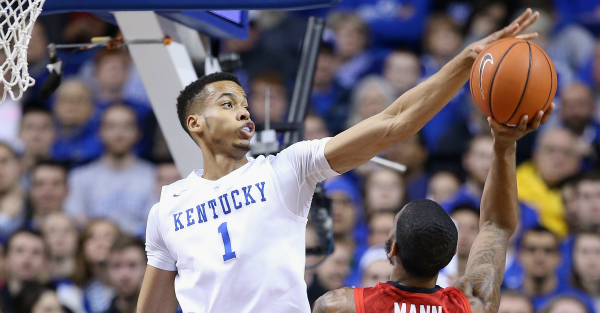 Skal Labissiere was the second-highest ranked recruit coming out of high school in the class of 2015 (according to ESPN) and was projected as a top-five pick in the upcoming NBA Draft. However, his stock has fallen greatly after starting the season out pretty well. In his second game as a Wildcat, he scored 26 points on 12 shots and averaged 14.7 points per game through the first six games of the season.
However, he was relegated to the bench starting with the Louisville game in December and never quite got back to his starting status mostly because of an inability to rebound or defend at a height of 6'11" and weight of 225 pounds. Former three-star recruit Derek Willis has even beaten out Labissiere for playing time.
The biggest thing is that Coach Cal is now admitting that it's actually his fault for Labissiere not playing as well as he should be this year and that might be the most surprising admission from the coach we've heard in a long time.
"I probably screwed this guy up trying to make him Karl Towns," Calipari said. "He's not Karl Towns. He can't play like Karl Towns. He probably shoots better than Karl Towns. Karl would love hearing that. But he's not Karl. Karl had a nasty beast streak in him. He's averaged more rebounds and points in the NBA than he averaged here."
Labissiere is still considered to be a top ten pick by a lot of experts, but if he doesn't play well the rest of the season and doesn't show some improvement in the postseason he could find himself on the outside of the lottery looking in or even looking at another year in Lexington.