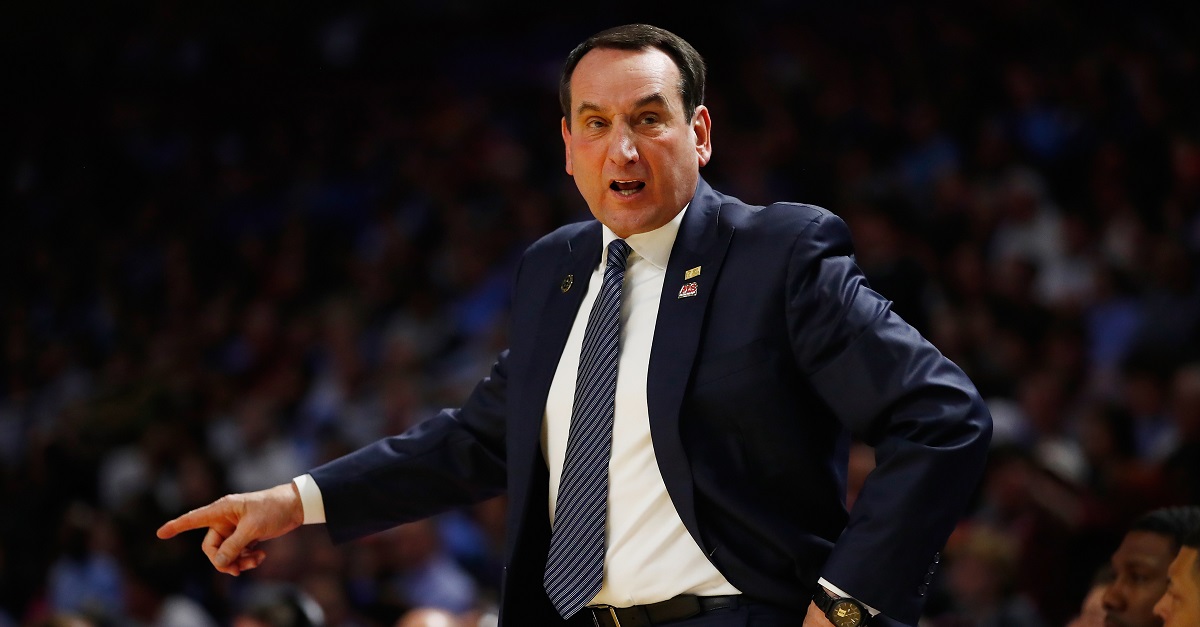 Gregory Shamus/Getty Images
GREENVILLE, SC - MARCH 19: Head coach Mike Krzyzewski of the Duke Blue Devils reacts in the first half against the South Carolina Gamecocks during the second round of the 2017 NCAA Men's Basketball Tournament at Bon Secours Wellness Arena on March 19, 2017 in Greenville, South Carolina. (Photo by Gregory Shamus/Getty Images)
The South Carolina Gamecocks were thought to be one of the weaker teams in the SEC that made the NCAA Tournament, but proved otherwise with wins over Marquette and now No. 2 seed Duke. The Gamecocks are headed to Madison Square Garden for the Sweet 16 and possibly Elite Eight thanks to an 88-81 win over the Blue Devils.
RELATED: We have our first huge upset of the NCAA Tournament!
Coach K could have been salty and upset about losing so early as such a high seed, but instead he paid the ultimate compliment to coach Frank Martin and his team. When asked about the postgame handshake and if Coach K said anything to him, Martin responded with this:
"He just said, 'Best of luck, Frank, you're building something special at South Carolina.'"
Coach K was also complimentary of the team leading up to the game and when Martin caught wind of that the little boy inside of him just couldn't help but break free.
"I read what he said about our team," Martin said. "For Coach K to say what he said, it's still the little kid in me watching his teams play. Unbelievable compliment and that's not because of who I am, but because of how those kids play. Coaches respect how kids play and for coach to say that to me is the ultimate compliment because I try to get our guys ready to play."
He definitely had them playing Sunday night as SEC Player of the Year Sindarius Thornwell scored 24 points while four other Gamecocks scored in double figures. They kept Duke leading scorer Luke Kennard to only 11 points and kept Duke to a measly 41.5 percent shooting from the field.
[h/t SEC Country]