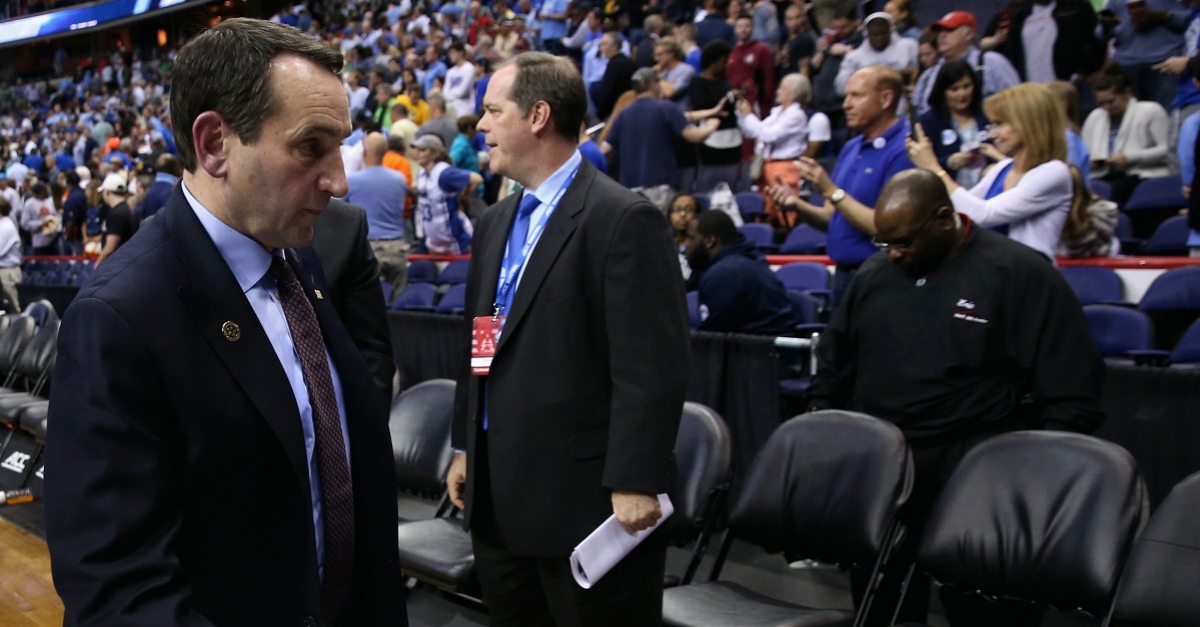 WASHINGTON, DC - MARCH 10: Head coach Mike Krzyzewski of the Duke Blue Devils walks off the floor following their 84-79 overtime loss to the Notre Dame Fighting Irish during the quarterfinals of the 2016 ACC Basketball Tournament Verizon Center on March 10, 2016 in Washington, DC. (Photo by Rob Carr/Getty Images)
Duke coach Mike Krzyzewski had come under in recent days after Duke's elimination from the NCAA tournament. The incident relates to Oregon player Dillon Brooks hitting a late 3 against the Blue Devils, drawing the ire of Grayson Allen and Coach K.
Coach K — in particular — was caught on a CBS camera admonishing the young Brooks, saying that they perceived showboating was beneath the player's skill. Usually there would be little problem with this, expect that Coach K had denied saying this to Brooks before the smoking gun was released by CBS.
Well now Coach K wants to apologize. Here is what he told to the Sporting News.
"Today, I spoke with Oregon head coach Dana Altman and apologized to him for my remarks to Dillon Brooks following our game," Krzyzewski said in his statement. "It is not my place to talk to another team's player and doing so took the focus away from the terrific game that Dillon played."
This was a move that the venerable Duke coach needed to make. Even if you have a problem with what Brooks did, it wasn't Coach K's place to make the comments to Brooks after the game. His team lost and 3-pointer shouldn't have been that big of a deal.
Hopefully this statement provides closure on this entire incident.