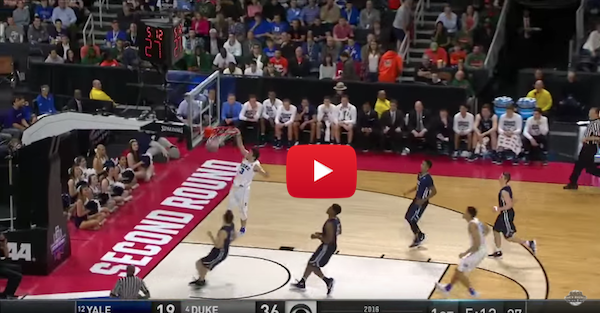 Duke was hoping not to get upset by mega underdog Yale on Saturday to get to the Sweet 16. That was looking like it was going to happen with a 23-point lead at halftime. The team was feeling so confident that the Blue Devils actually booked a flight to the Sweet 16 right then and there! However, Yale made a furious comeback only to fall 71-64 and it was Coach K's 90th NCAA Tournament victory, more than anyone else in the history of the tournament.
Brandon Ingram and Grayson Allen combined for 54 points and are the first pair of Duke teammates to score 25 or more in the same game since 2006. Luke Kennard chipped in 13 points while Marshall Plumlee had 10 boards and five blocks while playing with four fouls for most of the second half as well.
The Blue Devils will play the winner of the Oregon-St. Joe's game next week in Anaheim.