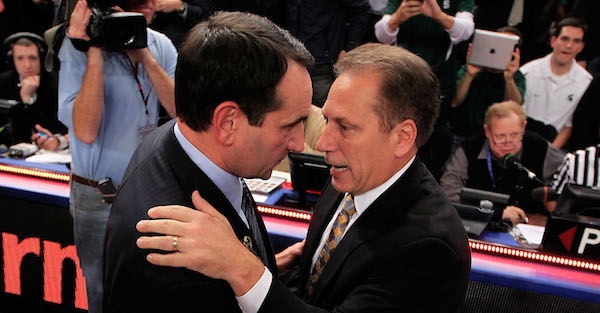 Chris Trotman/Getty Images
during the 2011 State Farms Champions Classic at Madison Square Garden on November 15, 2011 in New York City.
At 12-9 on the season, Tom Izzo's Michigan State Spartans are in jeopardy of missing the NCAA tournament for the first time since 1997.
Related: Three huge losses lead to historic night in college basketball
After Michigan State's latest home loss to Purdue, Izzo was asked about frustration among the fan base, to which he responded with, "I don't care about the fan base."
Izzo also broke a clipboard during the game, which the Spartans lost 84-73.
The Spartans have lost four of their last five games, and if they don't turn things around, their NCAA tournament streak will be in serious jeopardy.
(h/t CBS Sports)