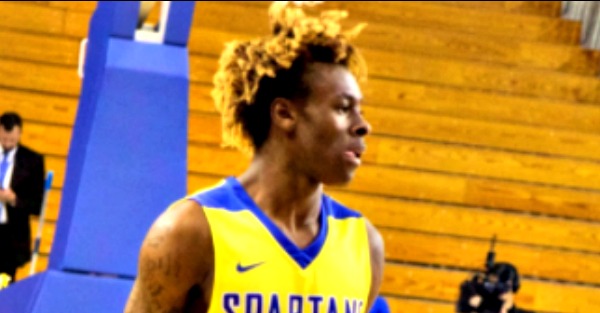 CaliHoops via Twitter
Terrell Brown has been thrown off the San Jose State basketball team after he was arrested, along with four others, in connection with a robbery, according to the San Jose Mercury News.
San Jose State issued the following statement:
Terrell Brown, who completed his freshman year at San Jose State University as a member of the men's basketball team, was dismissed from the team today for violating team rules. Spartans head coach Dave Wojcik made the announcement.
Brown was taken into custody on suspicion of robbery, criminal threats, possession of stolen property, and conspiracy to commit a crime, the Mercury News reported.
A man told police he was robbed by a group of people who punched him repeatedly and took his wallet, among other items. While talking to police, the man checked his bank account and noticed one of his credit cards had been used at a local fast food restaurant. Police went to the restaurant, where they found the suspect vehicles and made the arrests.
Brown, a 6-foot-2, 160 pound guard, started the season as reserve but entered the starting lineup in the 15th game of the season, according to his SJSU profile. He averaged 7.2 points, 1.7 assists and 1.6 rebounds in 25 games, according to the team?s website.