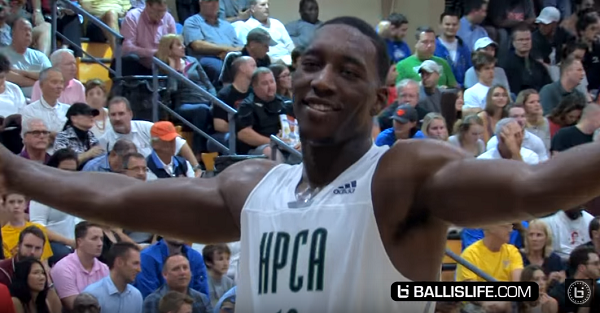 Ball Is Life/YouTube
ESPN's No. 5 recruit in the class of 2016 is Bam Adebayo. You've likely heard the name because he is a Kentucky freshman now and is on campus already throwing down dunks on people's heads. That's what he was most known for in high school as a 6'9″, 240-pound athletic freak.
RELATED: Bam Adebayo does something unprecedented on his college commitment
That might remind some fans of a certain Shawn Kemp who was supposed to play his college ball at the University of Kentucky. However, he failed to register a minimum of 700 on his SAT and was not eligible to play his freshman season in 1988. He then transferred to Trinity Valley Community College in November of that year and declared for the 1989 NBA Draft.
RELATED: Kentucky assistant coach says newest freshmen are 'really talented'
Kemp had about the same physique standing 6'10" and weighing 230 pounds in his prime with the Seattle Supersonics. If he gets the chance to show off his supreme talent and athleticism with the Wildcats then he could very well end up as a top ten pick in the 2017 NBA Draft. He is strong enough to play through contact and has enough mid-range and post game to be multi-dimensional as well.
That would make him quite the formidable force as long as coach Cal knows how to properly use him and keep all the other five-star recruits on his roster in the process.