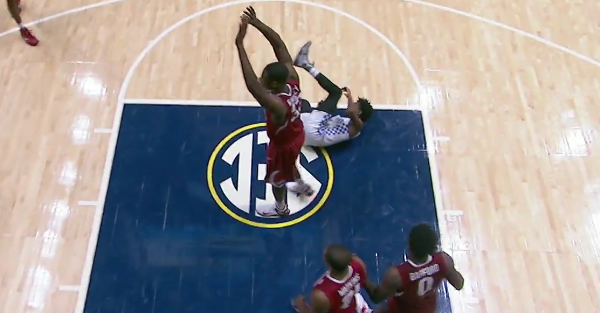 Screen Shot via ESPN
Dickie V. did not hold back.
The Kentucky Wildcats were in the midst of waxing Arkansas in the SEC title game when Razorback players showed their frustrations on the court.
First, Dusty Hannahs, the Arkansas guard, was whistled for a flagrant one when he set an illegal screen. Then, Moses Kingsley hit De'Aaron Fox, the Kentucky guard, in the face during a shot attempt.
The Kingsley play really angered Vitale.
"They're frustrated. There's no place for that. You lose, you lose like a man. There's no place for that, none whatsoever," Vitale said after the play. "For those out there watching, that doesn't make you a man, that makes you a mouse."
He continued "It's really sad in a way. The Arkansas team have done really and shown sportsmanship. A couple of guys got carried away. Hannahs' thing was frustration. He didn't really do it in a flagrant two style right there."
Speaking of Kingsley, who was escorted off the court, Vitale said  "I mean that was brutal. That has no place in the game, none whatsoever. It's his second technical. Shake hands be a man. There's nothing wrong with losing a basketball game."
Kingsley, for his part, alternated from being matter-of-fact to somewhat contrite during a post-game interview. He first  attributed the incident to things "getting chippy" on the court — whatever that means — but did note that he let his team down. "I wish I could take it back, but it happened," he said..
Arkansas lost big, 82-65.